Teen driving education event pledges to "X the text"
August 1, 2011
/
/
Comments Off

on Teen driving education event pledges to "X the text"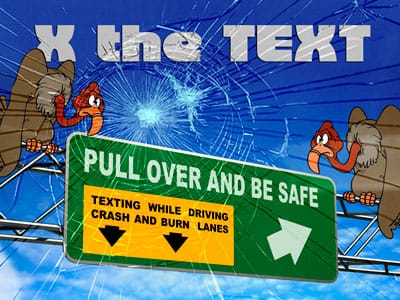 by Elizabeth Wood West
Texting while driving can be a fatal combination. That's why Allstate Insurance agent (and mother of three boys) Mary MacDonald said putting the Teen Driving Event together was a no brainer. "Texting and driving can increase your risk of crashing by 23 times! That's incredible! Hopefully, with the information we'll be sharing and the pledges we collect, we can make a difference and help save lives," said MacDonald. Joining MacDonald in sponsoring the Teen Driving Education Event will be Allstate Insurance agents Tammy Lopez and Steve Dow, and J. McElroy of Big O Tires of Castle Pines.
The event will be held on Saturday, August 20 from 10 a.m. to 2 p.m. at the Allstate Insurance office of Mary MacDonald, 3750 Dacoro Lane, located behind the Castle Rock Movie Theater in the Meadows, in Castle Rock. Allstate will have several cars that have been involved in accidents, along with Castle Rock Fire & Rescue's Jaws of Life demonstrations at 11 a.m. and 1 p.m. MacDonald hopes these visuals will impact teens enough to make "X the Text" pledges, which will be available throughout the event.
Big O Tires of Castle Pines' owner J. McElroy will have his Teen Driving Trailer on site and be talking about proper tire and car maintenance. McElroy hopes to impress upon teens that their vehicle is a lethal weapon and must be treated with respect at all times. "I have been involved in several distracted driving events, including Alive at 25, and have yet to see the kids not learn something. Any parent that has been through teaching their kids safe driving understands that someone other than the parent generally has a better impact on their willingness to listen," McElroy said. "[While driving], focus on driving, not the friend who just sent a text message. Distracted driving kills many people every year. If doing functions such as this can save a life or an injury, we all win," said McElroy.
There will be prize drawings held during the event, including a grand prize drawing for a new set of Big O Tires, valued up to $500. Admission is free to all families with teens. For further information, please call Mary MacDonald at 303-663-2293.