Teaching kids to be innovators at AA's Engineering Academy
May 1, 2016
/
/
Comments Off

on Teaching kids to be innovators at AA's Engineering Academy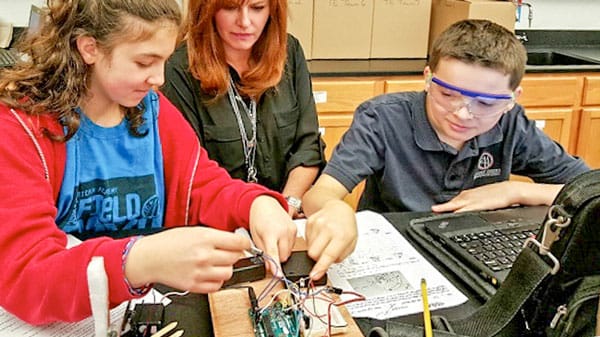 Aubrey Bruening and Maxwell Peery constructing and testing the circuit for their moisture sensing robot under the watchful guidance of Amanda Lane-Cline.

By Lynne Marsala Basche; photos courtesy of American Academy
As the school year is coming to an end, it marks the first year of American Academy's (AA) new Engineering Academy. The program was implemented at the middle school level and is geared toward teaching students to solve problems through critical thinking, using both electrical and mechanical skills.
Engineering Academy replaces one trimester of science and aims to give sixth through eighth graders a thorough understanding of what it means to become literate in science. Students are divided into groups at the beginning of the session, and these are the teams for the entire 10-week program. Creative and technical knowledge come together as projects are assigned and evaluated.
Approximately 600 students are going through the program this year, and while the projects are different for each grade, the common theme is that skills and accountability increase over the three-year period.
Students learn Arduino (for coding), CorelDRAW (for 3D printing), soldering, laser cutting techniques, welding and metal works all while working with wood, plastic, and metal, and put their skills to the test with challenges throughout the program.
Just as important as learning the hard skills that come with engineering projects, students are exposed to soft skills, as well. Teams must learn to take a collaborative approach to problem-solving, contribute toward group projects, and communicate effectively to succeed. Students must also learn to take risks, and that is not something that is always easily done noted STEM Director Amanda Lane-Cline. "Sometimes, kids are reluctant to take risks or are uncomfortable not being given the answer to something," said Lane-Cline. "They aren't used to it, and we want them to try different approaches, test theories and make it better."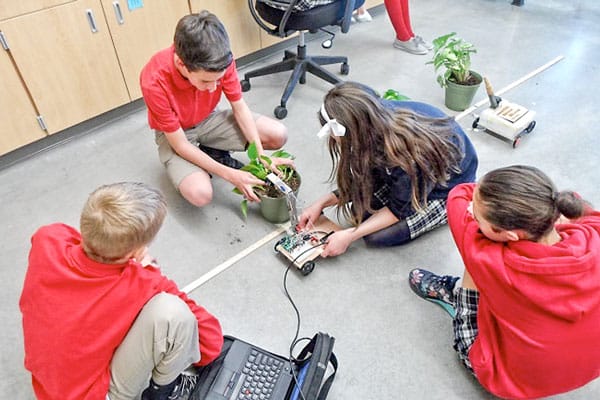 Students testing the operation of their moisture sensing robot in the classroom using plants set up two feet apart.
Physical science and engineering instructor Katie Dutton agrees. "The tech skills are obviously central, but more importantly, students are learning how to be a functional, productive member of a team, conduct independent research, problem solve, and persevere through challenges."
As the program progressed, teachers were not the only ones to notice student growth. Seventh grade student Marissa Segal said, "I learned not to give up. We learned some really cool things, but I think the most valuable was perseverance because we faced many difficulties but we never gave up."
With the first year of Engineering Academy almost complete, Dutton, Lane-Cline and the rest of AA's STEM team are busy preparing for next year and growing the program.