Third grade teacher sings final seventh inning stretch
May 1, 2016
/
/
Comments Off

on Third grade teacher sings final seventh inning stretch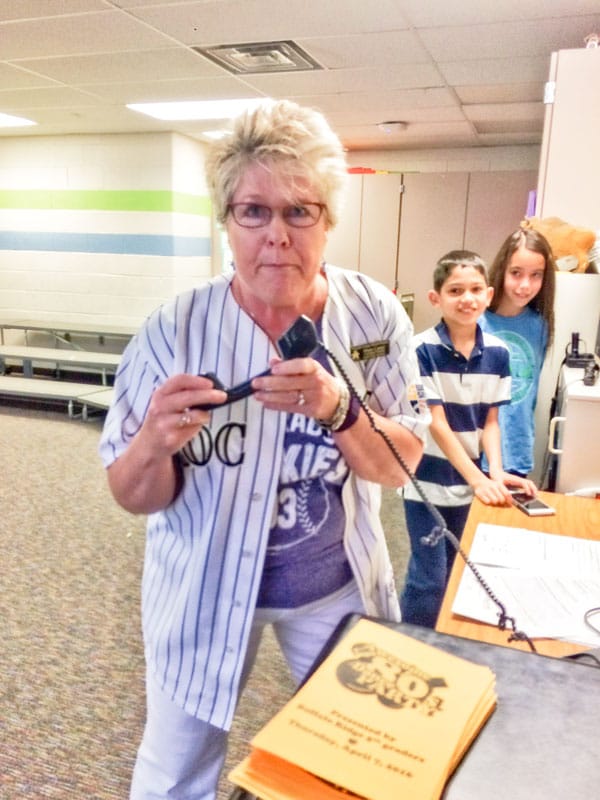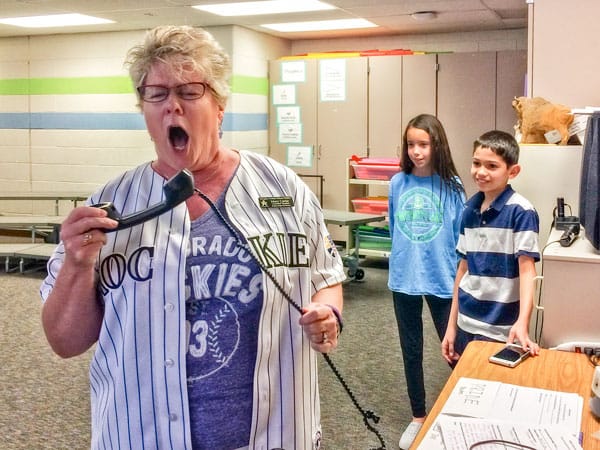 A very animated BRE third grade teacher Mary Carter helped the school celebrate the Colorado Rockies opening day on April 8 by singing "Take Me Out to the Ballgame" over the school's intercom. Carter will be retiring from teaching later this month. Also pictured are Ethan Ocasio and Malloree Noufer, members of the fifth grade Dream Team who were there to read the morning announcements over the intercom.
By Kathy Fallert; photos courtesy of BRE
Seventeen-year veteran teacher at Buffalo Ridge Elementary (BRE) Mary Carter treated the school on April 8 by singing "Take Me Out to the Ballgame" over the intercom prior to morning announcements. Carter has been making this a tradition every year on the opening day of the Colorado Rockies at BRE.
Carter came prepared wearing her Rockies baseball jersey for the momentous occasion. This will be Carter's last year helping BRE celebrate opening day as she is retiring at the end of the school year, later this month.
After her performance, Carter returned to her third grade class and continued with their morning routine, which includes reciting "The Pledge of Allegiance" and singing the National Anthem. Carter then surprised her students by tossing each child their own personal box of Cracker Jacks.
Carter said, "Throughout my tenure here at Buffalo Ridge, I have had teammates that totally understood the old saying, "There is no "I" in Team – together everyone achieves more! I owe a debt of gratitude to all of them and each staff person throughout the years. Also, the parents in our community are the most generous and helpful parents a teacher could ever dream of partnering with in the education of our children. Parents have given me their time, energy, support and love."
During Carter's first year at BRE she was hired as a long-term substitute for sixth grade and she wrote letters to then Governor Bill Owens. Carter recalls, "I had left industry to come to education and was taken back by the independence, isolation, and work load of the classroom teacher. I knew he had left business to enter public service so I thought we could have a good conversation. Laura Swenson has been my educational assistant for all these years and I would have never been able to do my job without her. I owe her more than I could ever repay in a lifetime."
With permission from the principal, Carter invited Governor Owens to speak at the sixth grade continuation program. Owens surprisingly accepted as the highest elected official in the state. He read Dr. Seuss' "Oh the Places You'll Go!" and provided a signed copy for each student. Carter pinned a silver buffalo on Owens' lapel and still cherishes the memory of that visit.
Carter reflected, "The students at Buffalo Ridge are extraordinary learners and exceptional young citizens. I have loved singing "The Star Spangled Banner" for 17 years with each and every class shouting, "Play Ball" after the song. The community here at BRE has nurtured every child that has crossed the threshold and the rookie teacher who walked in for the first time in January of 1999. I will leave with the joy of knowing a very bright future continues for every child who comes to BRE, every family, every staff person, as it does for me as I leave for my next adventure. Play Ball!"