The Bibliophiliac's Corner "The Power"
April 1, 2018
/
/
Comments Off

on The Bibliophiliac's Corner "The Power"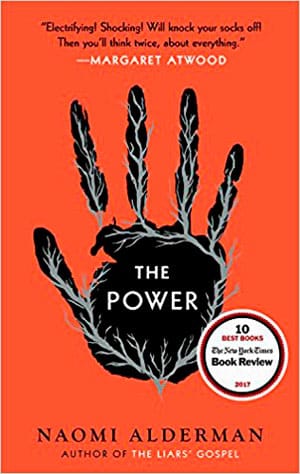 By Amanda Merriman
Connection writer Amanda Merriman admits she is hopelessly addicted to books. It has been this way nearly all her life. Every month she shares what she has been reading with the hope that others will share in the obsession too.
Dear readers, my most recent read has left me spent. "The Power," author Naomi Alderman's latest novel, completely engrossed me, and I happily devoured it on audiobook.
In Alderman's work of speculative fiction, teenage girls all over the world have suddenly developed the ability to shoot electricity from their fingertips. More than a sci-fi fantasy, this book is a deep dive into the weighty waters of power and gender inequality.
The Power introduces readers to four main characters: Allie, Roxy, Margot and Tunde. These characters grow in depth throughout the story. The women are all victims of various injustices and seek to overcome their circumstances. Tunde, a young male, becomes a prominent reporter, chronicling this global shift in culture. Drawings of artifacts from this fictional past are interspersed within the novel, adding even more depth to the plot. The book begins and ends with thought-provoking letters between two writers. Each chapter title references a countdown to a critical event, which lends to the urgency for the reader to keep pressing forward with the story.
The Power begs the question, "if women were in charge, would the world be a better place?" The journey to that answer is not an easy one in this book. Please note that for readers who are averse to violence, this read could leave some feeling a little squeamish in parts. Victims of assault should be aware of potential triggers throughout the narrative. One could argue if these scenes were necessary to illustrate the author's point. However, when examining imbalances in power, the events seem plausible. It lends to the starkness of the novel's atmosphere and sparks discussion for sure.
The Power would be a fantastic choice for book clubs to discuss. My dear friend and I recently talked about the book and considered societal norms, oppression and even delved into what it means to be a man or woman. I would recommend reading rather than listening to the book so as not to miss out on the drawings of the artifacts. After reading this book, I ended up listening to a short audiobook called "We Should All Be Feminists" by Chimamanda Ngozi Adichie to further explore the idea of gender equality.
Fellow bibliophiles and book club members, feel free to join in the dialogue. Blog your thoughts and feedback at www.castlepinesconnection.com and enter the keyword "bibliophiliac" in the search bar. Have you read a great book recently? Email your find to me at amerriman@castlepinesconnection.com.