Talented teens of Castle Pines
April 1, 2018
/
/
Comments Off

on Talented teens of Castle Pines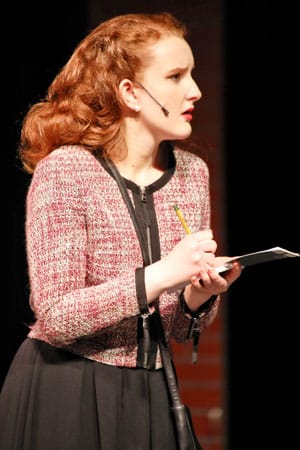 Lily Schmoker as hard-hitting journalist, Gloria Thorpe in the Rock Canyon production of "Damn Yankees."
By Elizabeth Rector; photos courtesy of Rock Canyon High School
Rock Canyon High School (RCHS) junior Lily Schmoker is known throughout the community as a multifaceted, talented teen. Recently, Schmoker took to the stage as Gloria Thorpe, in the RCHS production of "Damn Yankees."
Much like her character Gloria Thorpe, Schmoker has demonstrated an incredible work ethic and a passion for what she loves. In addition to maintaining a near perfect grade point average, Schmoker takes the time to perfect her craft. "I sing a lot and take voice and dance lessons. For my future career, I definitely want to follow the path of musical theater, it's what I love doing. Being on stage is where I feel most at home," Schmoker said.
All of that hard work has paid off for Schmoker who regularly acts in RCHS productions and competes at the state and national levels. She has qualified for ThesCon at the state level, competing in individual events and winning critics' choice awards. She was also chosen to perform main stage at the Bellco Theatre at last year's State Thespian Festival. Schmoker has qualified for nationals twice, and in performing in both duets and solos, she has received a superior rating at nationals.
Schmoker keeps busy with Tri-M Choir, drama, improvisation and after school shows. She also takes voice and dance lessons and is involved in the Music and Thespian Honor Society. But life is not all about school for Schmoker, who also volunteers during the summer for American Academy's (AA) summer camps.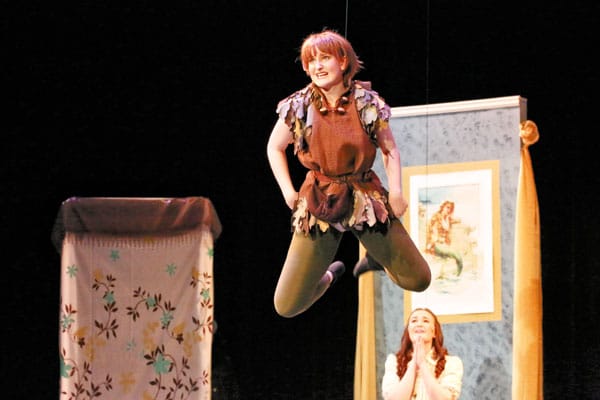 Megan Pryor as Wendy, watches Lily Schmoker as Peter Pan demonstrating his flight skills.
"Back in elementary at American Academy (Castle Pines), my mom encouraged me to audition for a play, and I became aware of theater. Once I got involved in theater, I said to myself, 'I'm going to do this every year,' and from there my interest grew," said Schmoker.
For a few weeks out of the summer, Schmoker mentors aspiring thespians at the AA summer camp. Schmoker also mentors incoming RCHS freshman. "I know that I was terrified to start high school, so it's nice to help freshman feel more welcome."
With a laser-like focus on academics, the arts and a heart for helping the community, Lily Schmoker is a quintessential example of what a Castle Pines talented teen looks like.
"Something I find extraordinary about Lily is her drive and work-ethic," Performing Arts Department Chair, Julia Dale said. "She stays incredibly humble and level-headed and is a pleasure to teach and have at Rock Canyon."
Schmoker has expressed how grateful she is for all of her hardworking teachers at RCHS; and in addition to support at school, she also expressed appreciation for her support network at home.
"When Lily's on stage, she gives it her all, she's not afraid. I'm so proud of her," said Lily's mother, Andrea Schmoker.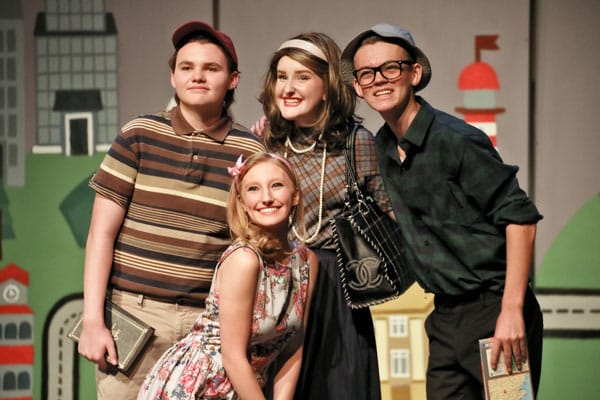 An onstage photo capturing Kameron Fisher (left), Lily Schmoker (center), Seth Lindsey (right) and Tiffany Ballantine (bottom) in the production "Leaving Iowa."