TTE students learn empathy and compassion
January 1, 2018
/
/
Comments Off

on TTE students learn empathy and compassion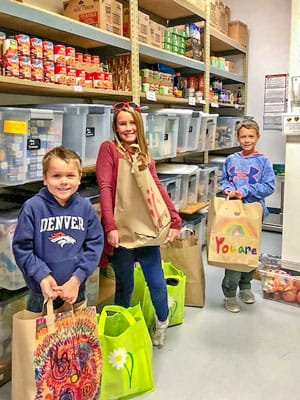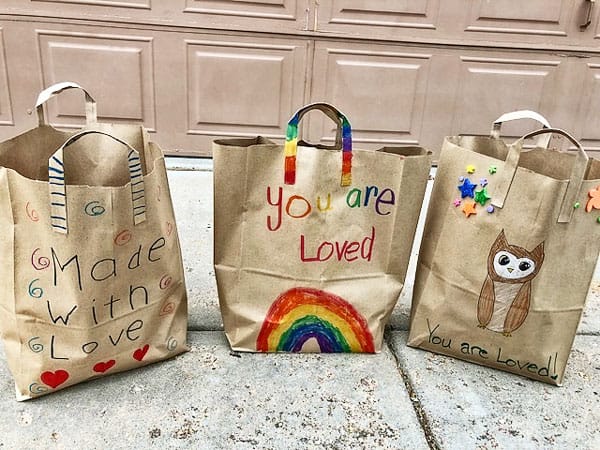 By Lynne Marsala Basche; photos courtesy of Anna Spitzer
Timber Trail Elementary (TTE) staff and Castle Pines resident Anna Spitzer believe that children should be introduced to helping others early. Last year, when Spitzer saw an opportunity at TTE to encourage giving throughout the school, she was eager to get started. Since then, TTE has cultivated a relationship with Fresh Harvest, which has since closed, and now, There With Care.
Spitzer, TTE's philanthropy chair, along with principal Michele Radke and the school community, wanted to partner with an organization where families could volunteer together and students could understand the concept of giving to those in need and relate to the experience. In early fall, TTE began collaborating with There With Care, which is a nonprofit organization created for families and children facing critical illness.
Since 2005, There With Care has supported families with grocery deliveries, transportation, meals, home maintenance, sibling support, professional services and more, all with the goal of easing daily stresses so that parents have more time with their children.
TTE collection drives revolve around themes to get students excited and are focused on gathering a select group of a few items. To date, TTE has held two school-wide drives for There With Care. The Breakfast FOR Champions campaign raised more than $1,200 worth of breakfast items, such as cereal, oatmeal, pancake mix and syrup. The No BOOs for Babies drive, which ended in November, collected diapers, baby wash, teething toys and wipes. Early in 2018, Spitzer will begin planning the spring TTE drives.
TTE students are learning about more than just giving with the donation drives. Courtesy of their wolf time specials teachers, who have incorporated a service project component into their lessons, students are decorating "Made with love by" and "Made with care by" grocery bags for families. Students personalize the bags with colorful pictures and inspirational words, so that the families and children in need know that someone is thinking of them. "It's the little touches of love and kindnesses that mean so much," said Spitzer. "It doesn't need to be something big."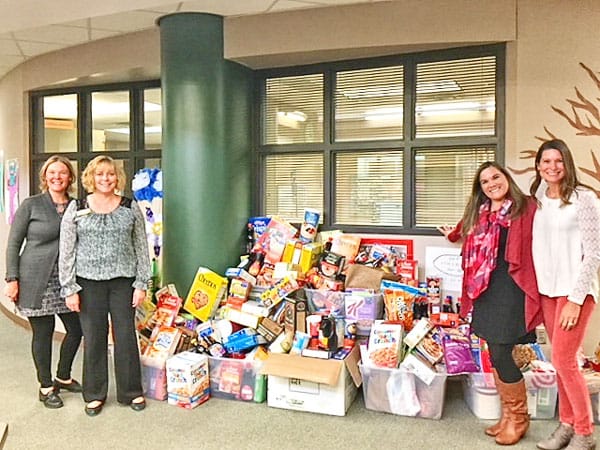 For Spitzer, an appealing aspect of There With Care is that there are family, group and individual volunteer opportunities outside of TTE. People can get involved and participate in a way that is meaningful for them and their families. Spitzer selected a family and brought her children to There With Care to gather and package necessities in TTE's personalized bags.
Fourth-grade student Audrey Spitzer said, "I liked finding all the grocery items around There With Care and packing the meals in the decorated grocery bags we made at school. We delivered everything to a family in the NICU. The parents were so thankful."
It is not just students who are excited about the There With Care program; staff and teachers are enthusiastic, too, including second-grade teacher Julie Haverstick, who has a personal connection to the organization. When Haverstick's niece was born under traumatic circumstances, her sister-in-law spent five weeks in the NICU [neonatal intensive care unit] with her daughter while her husband was at home with their other two young children. "The family was so grateful for the extra help and support from the folks at There With Care," said Haverstick.
Organically, the TTE philanthropy program will continue to grow, and Spitzer hopes the students begin to ask, "What is something nice I can do to give back to someone?" as parents continue to have conversations with their kids about the needs of others. "There are so many needs that There With Care has, and our Timber Trail family is excited to come alongside to help ease the burdens of these families," said Spitzer. Since the TTE There With Care partnership began three months ago, TTE has donated more than $2,150.00.
To learn more about There With Care , visit www.therewithcare.org.