Twister, spaghetti and swingsets; all in a day's work
July 1, 2013
/
/
Comments Off

on Twister, spaghetti and swingsets; all in a day's work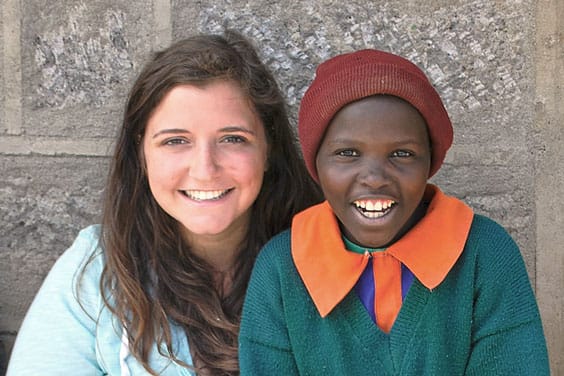 Stutzman happily posing with one of the 14 orphaned children the Mwaura family adapted.
By Julie Montoya; photos courtesy of Victoria Stutzman
Most teens spend the beginning of summer lying in the sun or hitting the mountains, but one Castle Pines teen had other ideas. College Junior Tori Stutzman journeyed to Kenya to enrich the lives of orphans in Rehoboth.
As part of the organization International Volunteer HQ Kenya (IVHQ), Stutzman spent three weeks living with pastor Stephan Njoroge Mwaura, his wife Jane, their four children, and their fourteen adopted African children. Pastor Stephan and his wife have created a home for fourteen orphaned children that would otherwise have been left in a traditional Kenyan orphanage. The Mwaura Family Home is on two acres of donated land, and the family farms peas, potatoes and corn to earn income and work towards self-sustainability.
Stutzman had always dreamed of going to Africa, and when the opportunity came up to participate in an international volunteer program through Lee University, she jumped at the chance. "I was a little scared and unnerved at first, but once I got there, I was in love," Stutzman said. She lived and worked on the farm, and helped the kids with their math and English. She also taught the kids how to play Twister, and made them homemade spaghetti for the first time in their lives. Before she left the United States, Stutzman held an online fundraiser, and with the money raised bought and built the kids a new swing set.
Stutzman is no stranger to giving, having grown up in Castle Pines with parents Pastors Russ and Becky Stutzman of Solid Life Church. After graduating Rock Canyon High School, Stutzman went on to Lee University in Tennessee. Now, looking towards her junior year, she is already making plans to return to the Mwaura Family Home.
When asked what it was that she took away from this experience, Stutzman answered, "I have a deeper appreciation for everything that I have, and I realize what is really necessary in life and what is just stuff we don't need. I loved it, and I already want to go back!"
For more information on the Mwaura Family Home and how you can get involved, visit http://belovedke.org.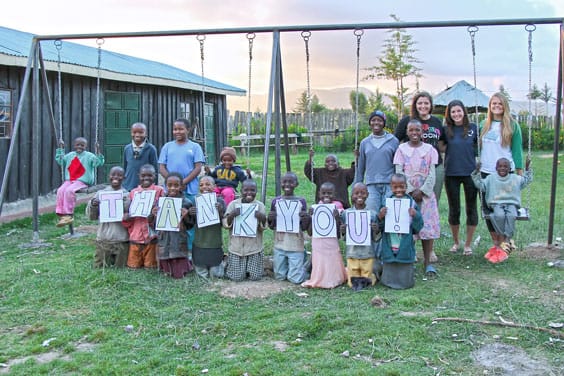 Tori Stutzman and the Mwaura family on the swing set Stutzman bought and built using money she raised from an online fundraiser.