What's your APPtitude? Let's get packin' with PackPoint
September 1, 2019
/
/
Comments Off

on What's your APPtitude? Let's get packin' with PackPoint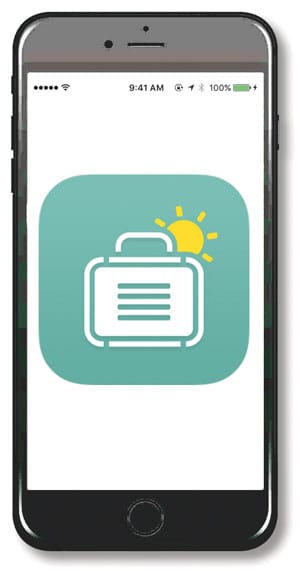 By Kathy Fallert
I'm probably more old school than most. But a lot of apps get really complicated and have more options than I care to figure out or can keep track of. This is not the case with the app PackPoint.
PackPoint is a very easy to use, straightforward app that is a handy travel assistant. Any upcoming trips you have, just type in your destination, the dates of your trip, the length of stay, whether it's for business or pleasure and what activities you plan to do. PackPoint will create a detailed packing list for you.
PackPoint's list will generate based on what the anticipated weather will be and takes into consideration whether or not you will be doing laundry on the trip or getting by on repeat basics. I tried it out with a trip in September to Tromso, Norway. It gave me a variety of activities to choose from such as hiking, swimming, bringing a baby and going to a fancy dinner. The list came broken down into categories based on specific activities I had chosen, which included photography, international items I may need, along with categories for toiletries and essentials.
I was impressed at the detailed list of photography items PackPoint suggested – memory cards, battery charger and tripod, as well as the international items suggested such as power adapter, foreign currency and vaccination records. I found the list to be very thorough, and it is easy to "hide" items that you won't need. It is also easy to rearrange items that have higher priority. There is a place to check each item off as you pack it so you can keep track of what you still need. It is also easy to create multiple lists if you have more than one trip coming up.
PackPoint is a free app on iOS and Android. You can upgrade to premium for $2.99 if you want to connect to the travel planning app TripIt. Premium also allows you to enter custom activities if you are doing things that are out of the ordinary. In the past, I have always kept packing lists on my PC and printed them out, which is not so convenient. The next time I travel, I'm packing with PackPoint.