Youth for Christ Launches at Rocky Heights Middle School
August 1, 2019
/
/
Comments Off

on Youth for Christ Launches at Rocky Heights Middle School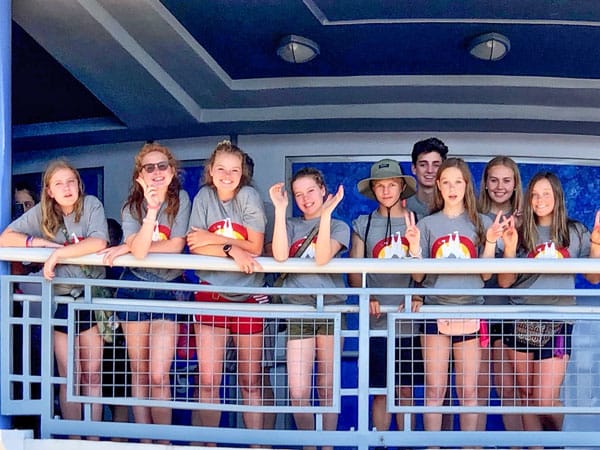 Douglas County Youth for Christ in Los Angeles, June 2019.

Article by Steve Whitlock; photo courtesy of Justin Conant
Rocky Heights Middle School has a new activity group starting when Youth for Christ (YFC) begins a new chapter this school year. Youth for Christ nationally is celebrating 75 years of service, with evangelist Billy Graham being their first full-time employee.
Denver YFC Director Ken Allen stated, "In the Denver area, YFC has differentiated itself by its approach to meeting the needs of area youth." That includes juvenile justice centers, inner-city neighborhoods, and on school campuses, including the new program at Rocky Heights. They pride themselves in seeing the potential in every young person as well as being able to see and reach kids that feel like they don't matter or aren't noticed. Their message is that every kid is wanted, cared for and important.
Allen went on to share, "We have clubs after school at the middle school and it is a chance to get to know kids. We have fun, play games, eat snacks and also have meaningful conversations about school, family, friends, etc. We also have a breakfast before school once a week to get to know kids."
The program is ultimately about relationships and seeing kids grow. YFC shares a powerful message that each kid is important, wanted and loved. Currently in Douglas County, that includes all high schools and middle schools in Parker and now their impact is reaching into Castle Pines.
Allen admits, "It is tough to be a teenager these days and we need more adults now than ever to come alongside teenagers to show up and remind them that they matter!"
How can a kid get involved? They just need to show up. The day for breakfast and club will be determined later this summer. You can reach out to Justin at justin@yfcdenver.org or call him on his cell phone at 720-492-7180.
Others helping with the launch this fall include Donny McCleery, the Campus Life site director, as well as Justin Conant. It truly is a team effort.