Meet Daniel Kane; new general manager at The Ridge
June 1, 2013
/
/
Comments Off

on Meet Daniel Kane; new general manager at The Ridge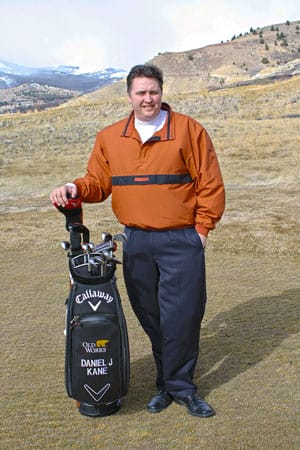 Daniel Kane is the new general manager for The Ridge at Castle Pines North.
Article by Elean Gersack; photo courtesy of Daniel Kane
Daniel Kane returns to Colorado and The Ridge at Castle Pines North (The Ridge) as general manager. Kane, who was hired by Troon Golf in 2000 and had a stint as head pro for The Ridge back in 2002, spent the past several years as general manager and director of golf at other courses: Vista Ridge (now Colorado National); Cache Creek Resort in California; and most recently at Old Works Golf Club in Montana.
Kane originates from Boston, Massachusetts and started playing golf around age ten, enjoying the sport throughout high school. After attending Northeastern University and Franklin Institute of Boston, he worked at MIT Lincoln labs for five years. All the while, Kane spent his free time playing and teaching golf. Within five years of working as a high-frequency antenna engineer, he returned to his favorite game.
Over the years, Kane has had the pleasure of re-designing the Miacomet course on Nantucket Island and designing two new courses – Vista Ridge and Cache Creek.
"I'm excited about being back," said Kane, who is a Professional Golf Association (PGA) member. With family ties to the area and a growing family underway, he and his wife were thrilled with the opportunity to come back to Colorado.
Kane prides himself on community involvement and looks to bolster The Ridge as a staple in the area for golf and beyond. Out of the gates, Kane and his team are planning an Oktoberfest Tournament and are considering Iron Man and Tail Gate tournaments next fall. Also in the works are 9-and-Dine events; an organized 5K run on the back nine; and improvements to the restaurant, including more lighting, to make it a go to place year-round.
The golf shop is slated for an update soon, too. Possibilities include adding some home décor and also bringing in high school and collegiate apparel.
Overall, Kane hopes to bring an inviting feel to the club such that all feel welcome – from pass holders and residents to those looking just to dine out. "I look forward to establishing myself as a leader and having The Ridge as a resource for our community," said Kane.
"The Ridge is proud to be here and we want to be proud of what we do," said Kane.