Rock Canyon poms, jazz and cheer rocked nationals
March 1, 2016
/
/
Comments Off

on Rock Canyon poms, jazz and cheer rocked nationals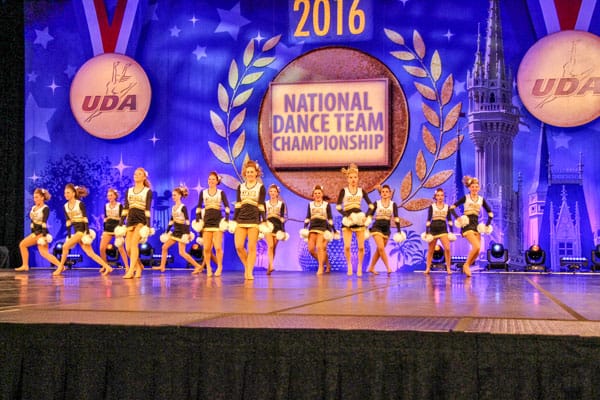 By Riley Busch, intern writer; courtesy photos
Earlier this year, the Rock Canyon High School (RCHS) poms and jazz teams, along with several others in the Douglas County area, were invited to compete in the National Dance Team Championships in Orlando, Florida, an honor that only a few schools receive. After many hours of hard work and effort put in during the season, both teams reached an all-time high in their performances at nationals in February.
To be eligible to compete in finals, both teams first had to compete in prelims and semifinals. By winning first place in their preliminary round, the poms team received an automatic spot in the final competition. "It was so shocking and unexpected – I think that it was a moment of validation for the team and coaches that we are among the top teams in the country and that their work is worth it" exclaimed poms coach Christina Leone. After competing in finals, the RCHS poms team placed ninth in the Medium Poms division, breaking school records and filling the team members with joy and excitement.
The Jazz team placed 16th in the Medium division, meeting the 16th placement they received in 2010. Though they didn't quite reach the goal they had set, all of the members and coaches were very proud of the hard work they had put in. "We were really challenged by our coaches with difficult choreography that pushed us outside of our comfort zone. We all grew so much because we were able to learn how to dance as a team in a style we were at first a little uncomfortable with," explained poms captain and Castle Pines resident Emilee Nelson.

Everyone in the community is so proud of all the schools that participated in nationals this year. Poms pride!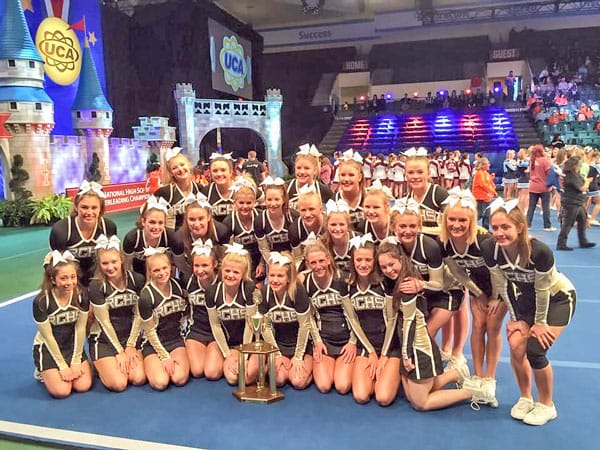 In early February, the Rock Canyon High School (RCHS) JV and Varsity cheer teams made the trip to Orlando, Florida to compete in the National High School Cheerleading Championships (NHSCC), one of the most prestigious and advanced cheerleading championships in the country. Both teams had put in countless hours to improve and perfect their routine, and after facing off against many challenging competitors, the Jags finished with flying colors.
Aside from being crowned Continental League Champions, both teams worked to place RCHS in seventh place in the Super Varsity Division I category, continuing their top 10 streak they began in 2012. Just getting to finals was no easy task. RCHS cheer first had to make it through both prelims and semifinals, each filled with their own challenges.
Large amounts of support and spirit were shown for the cheer team as they went off to nationals. The season theme Rock the Nation was plastered on many t-shirts, posters, decorations, and other various objects throughout the competition. The positive atmosphere and accomplishments of the cheer teams reflected on the community in a positive way.

Kelly Happ, Castle Pines resident and RCHS cheer supporter explained, "As a mom, I think cheer is enriching and an overall contribution to the athlete and their community. It teaches the girls how to be on a team. Cheer is the epitome of a 'team sport'. It is a tough sport that requires a lot of conditioning and discipline. It is an excellent framework for success overall." The school and community are very proud of their Jaguars.