Wine shop introduces customers to new wines and spirits
June 1, 2015
/
/
Comments Off

on Wine shop introduces customers to new wines and spirits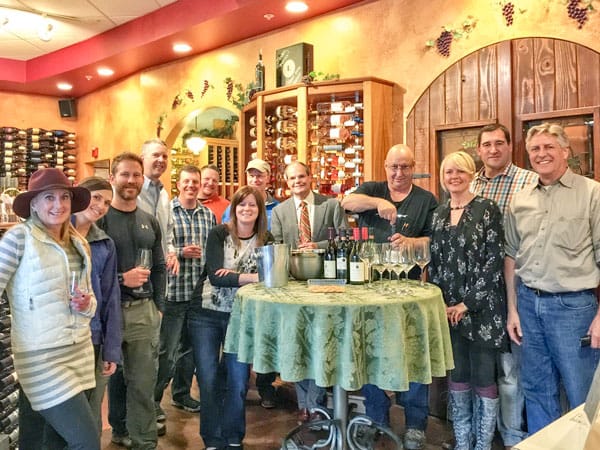 A core group of regulars enjoy visiting Dodds Wine Vault each Friday evening to taste and become educated on new wines. On occasion the shop owners also introduce their guests to interesting spirits like the bourbon whiskey from Laws Whiskey House. There is something for everyone.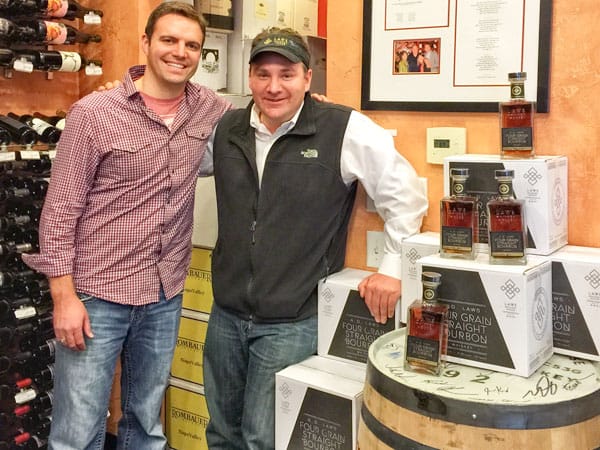 Braden Dodds (left) with Al Laws, the owner of Laws Whiskey House. Dodds is excited to be selling single-barrel whiskey from this exceptional Denver- based distillery. Dodds Wine Vault is one of only a few stores in Colorado to carry a single barrel whiskey from Laws.

Article and photos by Amy Shanahan
Brad and Braden Dodds, the father and son owners of Dodds Wine Vault have a loyal group of neighbors and friends who pop in every Friday evening for free wine tastings from 4 p.m. to 7 p.m. The group enjoys tasting and being educated about boutique and specialty wines just as much as they enjoy socializing and catching up with each other.
According to Braden, "The group has become close and as soon as they see someone new walk through the door, they greet them and welcome them and encourage them to join in the fun."
On occasion, the Dodds bring in specialty spirits for their tastings and on Friday, May 15 they were pleased to bring in Al Laws, the owner of Laws Whiskey House, a local Colorado whiskey distillery that is dedicated to producing four-grain bourbon whiskey.
Laws and his team began their company four years ago with their first bourbons being sold just this past October. Laws Whiskey House sets itself apart from other distilleries by following the strict rules of producing bourbon and by cooking and distilling the four grains by hand to exact standards in order to bring out the flavor of each grain.
Braden visited the distillery and purchased a barrel of whiskey, which was bottled and is for sale in his store. "Braden picked this himself because it was distinctive," remarked Laws. "Our barrel manager loved giving Braden this emotional experience of tasting from various barrels and choosing one that he liked. Braden was the perfect person to have because of his wine background; he has a very good palate and is passionate about what he does."
The Dodds are excited to offer the single-barrel bourbon whiskey from Laws barrel number 92 to their customers just in time for Father's Day. They encourage anyone interested in tasting new wines and spirits to stop by on Friday evenings. "Our tastings are a great way to try new wines and spirits and it's a fun way for new people to the neighborhood and regulars to come and meet some new friends," Braden stated.
Dodds Wine Vault is in the Village at Castle Pines, located at the corner of Happy Canyon Rd. and Santa Fe. To learn more, visit www.DoddsWineVault.com. To learn more about Laws Whiskey House, visit www.LawsWhiskeyHouse.com.