Jazz musician brings easy listening to Castle Pines
August 1, 2015
/
/
Comments Off

on Jazz musician brings easy listening to Castle Pines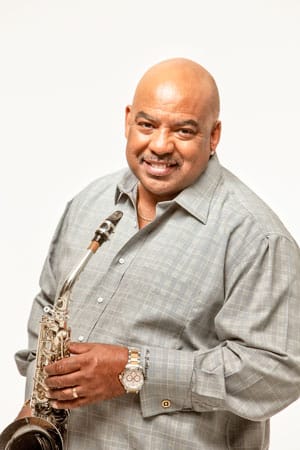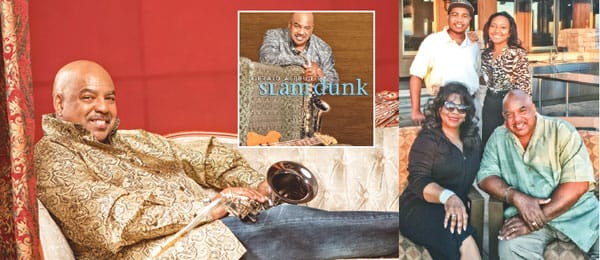 Gerald Albright tours throughout the world but his wife Glynis and his children Brandon and Selina are his foundation. The family enjoyed time together for Father's Day on the patio at The Country Club at Castle Pines. Albright's daughter Selina is a talented vocalist who will perform with her father at the end-of-the-summer party at the country club on August 29. Albright's most recent Grammy nominated album for Best Contemporary Instrumental Album, Slam Dunk is available on Amazon.com.
By Amy Shanahan; photos courtesy of Gerald Albright
Castle Pines Village is full of hidden gems in terms of the spectacular scenery and the diverse and talented people who call it home. Gerald Albright is one such gem. Albright, who moved here more than a decade ago with his wife and children, is a highly accomplished, eight-time Grammy nominated jazz musician.
Albright grew up in Los Angeles and learned to play the piano and saxophone at a young age while attending Beulah Baptist Church. His love for music was immediate and his talents came to also include the flute, bass guitar and electronic wind instrument.
After Albright graduated from college in southern California, he began touring with jazz musicians. By the 1980s he was highly sought after both as a session musician and as a solo artist. Albright had the good fortune to perform on albums with such amazing musicians as The Temptations, Olivia Newton-John, Whitney Houston, Anita Baker, Quincy Jones and many others. Throughout his career, Albright has sold over a million albums in the United States and has appeared on nearly 200 albums by other artists.
Albright also had the honor to be selected as one of ten saxophonists to play at President Clinton's inauguration ceremony. "Music means the world to me," remarked Albright. "I'm 48 years in and I feel like I'm just getting started. I'm humbled and proud to be a messenger of the music. It's wonderful to make music that affects both me and my audience in a positive way. Vocationally, nothing else makes me happier."
Albright's most avid supporters and fans are his wife Glynis and their two children. Albright himself is quite modest about his talents and Glynis was quick to point out that every album that Albright has made since moving to Castle Pines has been number one-charted, and Grammy nominated. New Beginnings, Sax for Stax, Pushing the Envelope, 24/7, and Summer Horns, were released previously, and his most recent album Slam Dunk received a 2015 Grammy nomination for Best Contemporary Instrumental Album.
Albright tours extensively but loves coming home to Castle Pines. "Living in Castle Pines has balanced my life in a big way. With its close-to-nature feel and great location, it is a wonderful place to raise a family and feel the privacy and security that's needed in today's world. The people who live here are very friendly, and Castle Rock offers everything needed within close reach. Finally, the fact that Castle Pines lies within a golf mecca, I find it conducive to my love for the sport," said Albright.
To learn more about Albright and to view his performance schedule, visit www.GeraldAlbright.com.