Mail delivery times fluctuate
December 1, 2009
/
/
Comments Off

on Mail delivery times fluctuate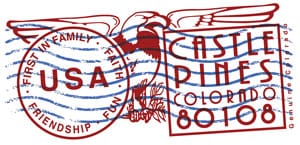 by Lisa Crockett
As the holidays approach, many, if not most residents in the Castle Pines community will send and receive more mail than usual. As a result, mail delivery times will fluctuate.
According to a statement submitted by the United States Postal Service (USPS), this fluctuation is a part of normal delivery service, not just during the holidays, but year-round as well.
"Because the volume of mail fluctuates daily, delivery times are not guaranteed. All deliveries should be made by 5 p.m. unless there are unusual circumstances (e.g. Postal holiday, natural disaster, etc)."
Residents who are regularly receiving mail after 5 p.m. may register complaints with the USPS by going to www.usps.gov and clicking on "Customer Service" at the top right-hand side of the page. Complaints may also be filed by telephone at 1-800-275-8777.