Playing basketball for the Buffaloes a dream come true
March 1, 2016
/
/
Comments Off

on Playing basketball for the Buffaloes a dream come true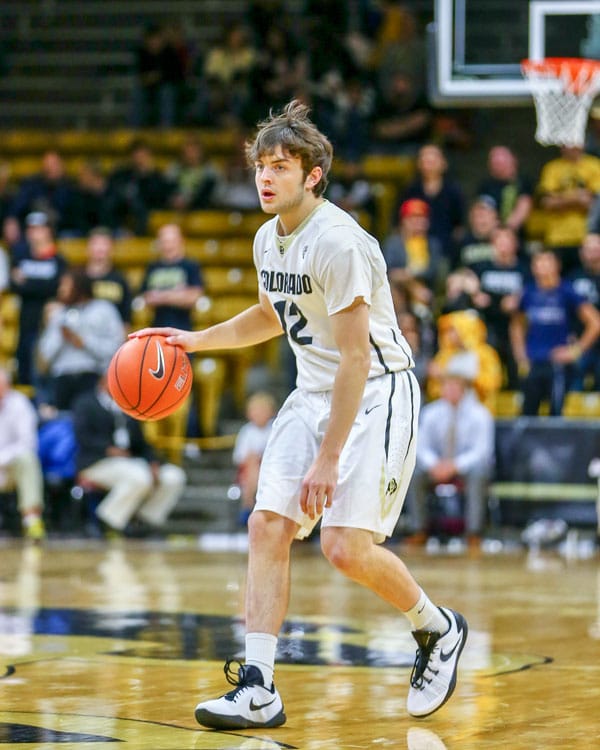 A talented point guard, Lombard understands all aspects of the game and is an important play maker.


By Lynn Zahorik; photos courtesy of University of Colorado Boulder and the Lombard Family
The arrival of March Madness means non-stop NCAA basketball excitement for fans of all ages. Mitch Lombard, 2015 Rock Canyon High School (RCHS) graduate and freshman guard for the University of Colorado Buffaloes (CU) hopes his team will receive a bid to the dance.
Born in Cleveland ,Ohio, Lombard moved to Castle Pines when he was five years old. He started playing basketball on the RCHS Gold Crown basketball team when he was in fifth grade and later moved into playing AAU tournaments across the country with the Colorado Hawks.
As a freshman at RCHS, he immediately earned a spot on the varsity team. He quickly impressed all who had the pleasure of watching him play. Lombard lettered in basketball for four years as he led his team with 15.6 points per game, 4.8 assists per game, and 3.8 rebounds per game. He made the All-Continental League first team during both his junior and senior years of high school and was named to the second team all-state during his senior year.
Though Lombard's talents attracted attention from colleges nationwide, his dream was to play in his home state for CU. He passed on scholarships from other schools for the offer to be a preferred walk-on point guard for the Buffs. He started practicing with the team last summer. Currently he spends three-to-four hours a day on basketball – practicing, lifting and studying film. Lombard has seen some playing time and travels with the team. There are 31 games in the regular season plus the post season, which includes the PAC-12 Tournament in Las Vegas March 9-12.
Playing college hoops has provided many new challenges. "The biggest difference I have seen between high school ball and college is the size and speed of the game. Players are taller, stronger, and faster. I love how unpredictable college basketball is, but most importantly how creative you can be while playing basketball. That's definitely my favorite part of the game. I like to be a play maker and get other people easy shots," said Lombard.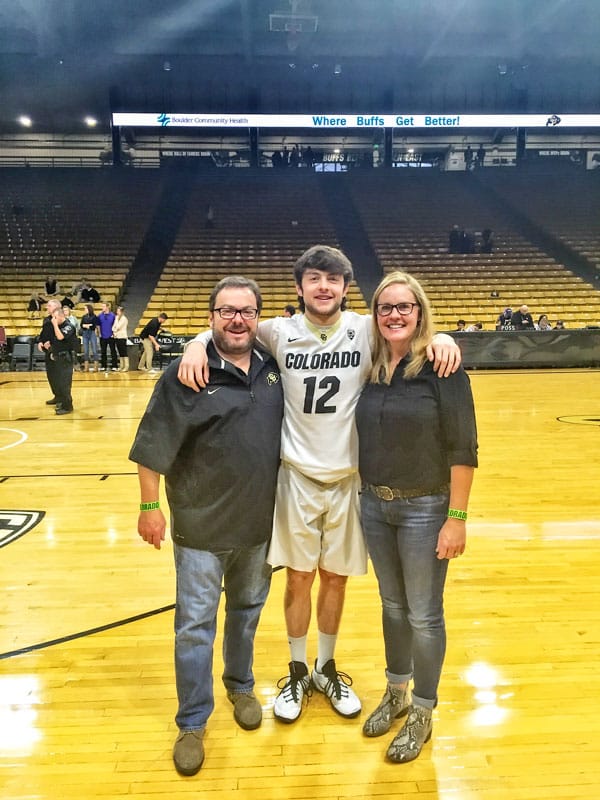 Jim and Hallie Lombard enjoy going to Boulder to watch their son Mitch play as a CU Buffalo.
Lombard's freshman year at CU has been a busy one as a student athlete. He is enrolled in the College of Arts and Sciences where he may study the field of communications. Each day he has the normal challenges of class and schoolwork to address before he hits the gym. As an NCAA athlete he must carry a minimum of 12 credit hours each semester. He enjoys living on campus with a high school friend and two other incoming players from Bosnia and Belgium.
"Playing basketball in my home state is a dream come true and having family and friends there to support me makes the experience very special," said Lombard.
Keep an eye out for Lombard and the CU Buffs as you enjoy the March Madness hoopla.