Teen's runway debut at fashion week in New York
April 1, 2016
/
/
Comments Off

on Teen's runway debut at fashion week in New York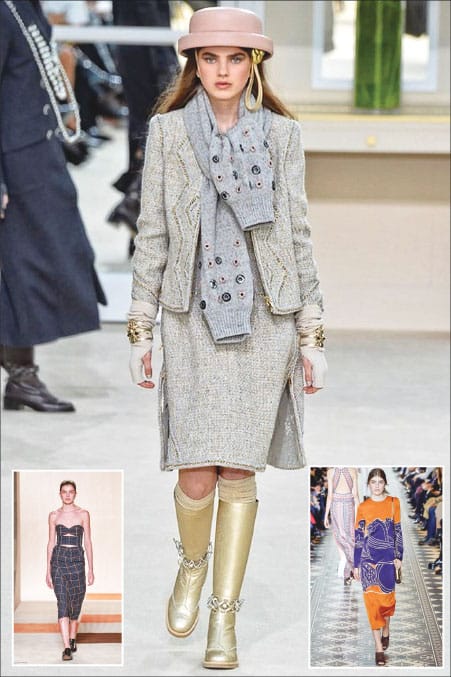 Skylar Tartz, a Rock Canyon High School junior and Castle Pines Village resident, modeled Chanel at the Grand Palace in Paris during fashion week. Tartz also traveled to New York for her runway debut representing top designers, including Victoria Beckham (left inset) and Tory Burch (right inset), among others.

By Lisa Nicklanovich; photos courtesy of Vogue online and the Tartz Family
While many high school students were taking a vacation from academics and enjoying some time off during spring break, Rock Canyon High School junior and a Castle Pines Village resident Skylar Tartz spent her break catching up on all the school work she missed while modeling in New York and Europe during fashion week the past few months.
Fashion Week is an opportunity for the industry's top designers to present their upcoming collections in a series of runway shows and presentations to buyers and the media. It takes place twice a year in the major fashion capitals of the world: New York, London, Milan and Paris, and it is a coveted accomplishment for any young model to land.
Tartz was scouted at Park Meadows mall in Lone Tree four years ago when she was just 12 years old. Her mother Karla said, "I was skeptical to say the least. I am an attorney and the fashion world is very foreign to me. We moved very slowly and followed Skylar's lead as far as how fast to move."
Tartz was hesitant to jump into modeling until she could juggle school as well. She decided to participate in fashion week this year and said that it was a crazy ride. "I started in New York in February and then went to London, Milan and Paris. It was really exciting to meet the other models; they are just like us – normal teens and young adults," Tartz explained. "It was also cool to meet the designers. I spent two days with Donatella Versace and had a private lunch with Anna Wintour. The coolest was opening the show for Victoria Beckham … Posh Spice, can you believe it? Oh, and of course meeting David Beckham wasn't bad!"
Tartz, Elite Model Management New York's newest recruit, made her runway debut in a key opening slot as a semi-exclusive at Victoria Beckham and had an impressive show list with appearances on the runway for Calvin Klein, Burberry, Versace, Alexander McQueen, Tory Burch, Chanel and Dolce & Gabbana, to name a few.
Tartz added, "Modeling, especially during fashion week is really hard work. We would leave early in the morning and not get back until late. I felt like I was in The Amazing Race – trying to get to my next appointment, my next shoot, or my next fitting on time. Pretty crazy for a girl who has a hard time getting to school on time!" she laughed. "Many of the other models I worked with went back to New York to continue [modeling], but I came home after fashion week to get caught up on my studies. Rock Canyon has been unbelievably supportive throughout this whole process."
In addition to modeling, Tartz's other interests include travel, music, art, and photography. Being in New York and Europe presented many options to pursue those interests. Mom Karla said that Skylar really wanted to visit the Louvre and Eiffel Tower in Paris and the Duomo in Milan. "One of her favorites was an orchid exhibition at the Jardin des Plantes in Paris," she said.
What's next for Tartz? "After school this year, I may do some more jobs over the summer (especially looking forward to working in Rio!). I'm really trying to take this one day at a time. While I have met incredible people in the fashion industry, right now my focus is on school, prom and ACTs!"