What's your APPtitude? Our hood now has a hub
January 1, 2017
/
/
Comments Off

on What's your APPtitude? Our hood now has a hub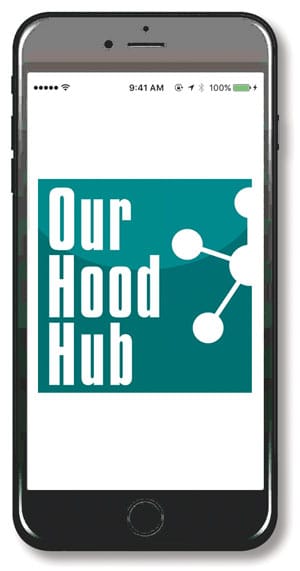 By Amanda Merriman
This month's APPtitude selection was easy to make. When I discovered that Sponsored Publications (creators of Our Neighborhood Directory) designed an app for the Castle Pines community called "Our Hood Hub," it made sense to try it out. Our Hood Hub is free and launched in November. Both Android and Apple users can download the app.
Our Hood Hub can be thought of as an "app umbrella" because it provides convenient one-touch access to various different community apps. As Castle Pines has developed and grown over the years, this amounts to quite a lot of organizations to know about! The app is easy to navigate and links residents to The Connection, area schools, churches and amenities to name a few. While exploring the app, I particularly liked the "Our Neighborhood Map" tab. Even though I have lived in the area for quite some time, it can be challenging to keep the names of the different neighborhoods straight.
Since Sponsored Publications developed the app, I wondered if the community directory would be listed. I happily saw that this was not the case after navigating the app, as maintaining resident privacy is a concern that is shared by many. The app also provides the option for residents to connect with Our Hood Hub on various social media outlets. Users can also get social through Our Hub Hood by posting photos directly in the app.
Our Hood Hub is a new way for residents to access everything Castle Pines. This app will be useful for both new and long-time residents of the area. For more information, visit www.ourhoodhub.com or your app browser.