We love what we do and we hope you do, too
January 1, 2017
/
/
Comments Off

on We love what we do and we hope you do, too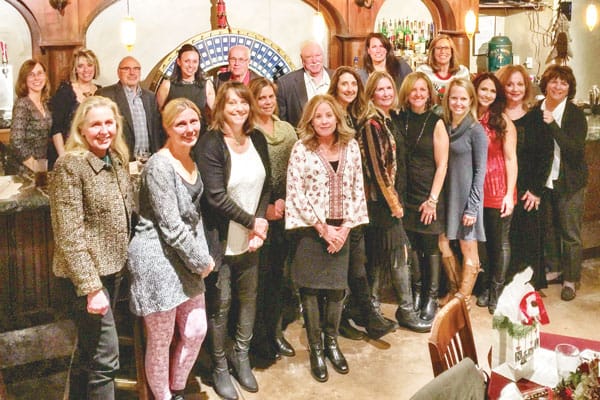 The Castle Pines Connection staff annual holiday dinner celebration at Pegasus restaurant in downtown Castle Rock.  Pictured left to right, back row:  Lynne Marsala Basche, Cindy Kessinger, Paul Masovero, Laura Gooding, Joe Gschwendtner, Tim Gamble, Terri Wiebold and Cindy Cranstone; Front row:  Elizabeth Wood West, Amanda Merriman, Kathy Fallert, Heidi Lewellyn, Kay Bryant, Lisa Nicklanovich, Lynn Zahorik, Amy Shanahan, Elean Gersack, Krysta Parr, Nancy Koontz and Patte Smith.  Not pictured: Sandy Gamble, Kevin Trice, Nancy Warner, Lisa Crockett and Michelle Post.

By Terri Wiebold; photo courtesy of Bob Wiebold
As we enter into our ninth year of publication, the staff at The Castle Pines Connection sends its warmest gratitude to everyone who has supported us over the years and participated in the work we are doing.  It is truly our privilege to be able to share the stories and photos of the amazing residents in the 80108 community.  We continually strive to be your voice, and your involvement makes that possible.
Your story contributions and participation have enabled us to grow from a 32-page black and white publication (first issue) to a 52-page full-color newspaper with a Food & Dining guide insert.  You have honored us with your contributions, and as a locally-owned community newspaper, we hope to continue to be able to give back.
While advertising dollars are the sole funding source of the paper, the voluntary subscription contributions you have sent in over the years have let us know that what we are doing is appreciated and valued, so we thank you for joining in.  It has also helped us to grow and continue to give back to the community, particularly in our ability to support local nonprofit organizations.
This year, all voluntary subscription contributions will be shared with one of the many Douglas County nonprofit organizations, many of which  we feature in our Angels Among Us segment, which began last year.
If you love what we do and want to be a part of the continued growth and success of The Castle Pines Connection, we have made sending your voluntary subscription of $24/year ($2/issue ) even easier.
New for 2017, we have established a PayPal link on our website to allow contributions to be made via credit card electronically or directly from your PayPal account.  If you are "old school" (what we consider ourselves in the newspaper business to be), you can tear out the voluntary subscription form below and mail it to us with a check in the amount of your choosing.
Thank you for your continued participation and support!