Wellspring performance delivers tidings of comfort and joy
January 1, 2017
/
/
Comments Off

on Wellspring performance delivers tidings of comfort and joy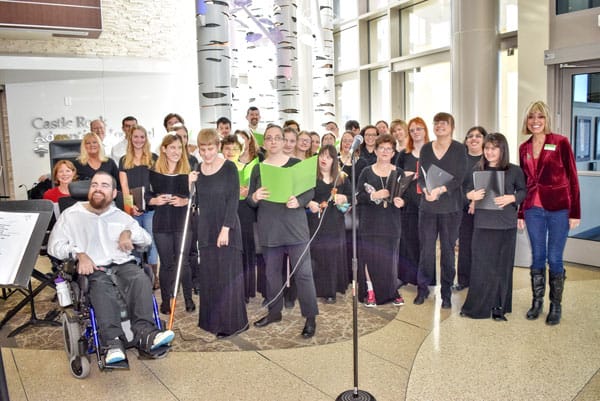 The Castle Rock Adventist Hospital's holiday festivities kicked off with
a concert of Christmas classics by The Wellspring Wonders Choir and
Chorale. The 40-member strong choir made its third appearance at the
hospital.
Article and photos by Lynn Zahorik
The jubilant voices of The Wellspring Wonders Choir and Chorale filled the lobby of the Castle Rock Adventist Hospital (CRAH) in early December. The 40-member choir entertained staff and visitors with rousing renditions of holiday songs, including "Jingle Bells," "We Wish You a Merry Christmas," and "Rudolph the Red-Nosed Reindeer." The heartwarming performances, which included solos and duets by many members, brought smiles to all who were lucky enough to be present for the lunchtime show. This was the third time the choir has shared its vocal talents at CRAH. The Christmas concert is the absolute favorite of Wellspring STARS (Specially Talented Adults Raising Standards) who began practicing their tunes in October.
Wellspring Community serves adults with a variety of special needs, including Down syndrome, autism spectrum disorders and a number of other disabilities. Choir director Cindy Kessinger-Wenninger and accompanist Teri Bultemeier have enriched the lives of Wellspring participants with music instruction for eight years. "We always have a blast with the Christmas concert, and the choir helps select the songs," stated Kessinger-Wenninger. The choir is also supported by program staff and dedicated volunteers who join in the singing to keep the members focused and enthused.

Hospital staff and visitors were charmed by Amy Brack's beautiful solo performance of "O Little Town of Bethlehem."
"Our members truly are engaged and brought to life through the music we perform," stated Paul Guillan, Wellspring program director. "Some of our members will never sing in choir class, but when it is performance day they know each and every word and belt the songs out with such enthusiasm!" The Wellspring Wonders Choir and Chorale practices once a week throughout the year and performs four to five shows a year.
To learn more about Wellspring Community and its programs, visit www.wearewellspring.org.