Change and excitement come to the Castle Pines Chamber
February 1, 2016
/
/
Comments Off

on Change and excitement come to the Castle Pines Chamber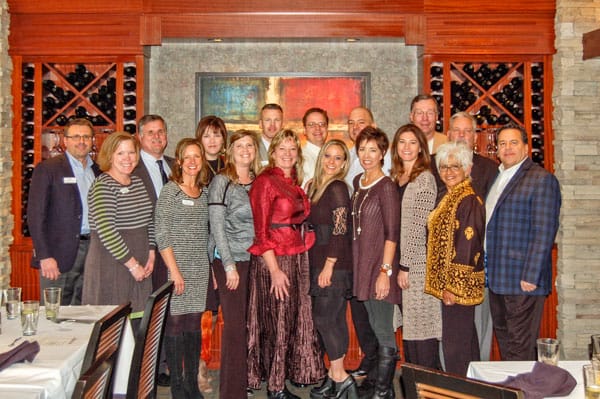 The Castle Pines Chamber of Commerce elected and welcomed three new board members at its annual luncheon held on January 20 at Seasons 52 in Lone Tree. The board of directors is comprised of a variety of business owners from the community who take an active role in supporting and promoting the business community in our area.

Submitted by the Castle Pines Chamber of Commerce; photo by Terri Wiebold
The Castle Pines Chamber of Commerce kicked off 2016 with many exciting changes that they were pleased to share with members and community leaders at their annual luncheon on January 20. Held at Seasons 52 in Lone Tree, attendees enjoyed a delicious lunch, while learning about the future of the Chamber as it embraces the changing and growing city of Castle Pines.
Greg Segal, the newly elected Chairman of the Board inspired all those in attendance with his assertion that "Something special is happening in Castle Pines". Segal summarized the steps that the Chamber is taking to improve its member experiences, and better connect with the community, while still maintaining its unique identity.
The luncheon concluded with the election of five members to the Board, three of whom are joining for their first term. Joe Roos from Hide in Plain Sight, Steve Peterson from Christian Brothers Automotive, and Pamela Herrmann from Create Buzz will all bring their varied expertise and ideas to the Board. Michael Spector from Spector, Dodd &Associates realty has been a part of the Castle Pines Chamber since 2011 and has served on the Board for two years, but was still energized by what he heard at the luncheon. "I am very excited and encouraged to hear the direction the Chamber is going and I look forward to being an active participant in the future direction of Castle Pines."
The energy and excitement for the future of the Chamber is evident as the city of Castle Pines continues to grow, and new businesses and residents make this wonderful community their home. The Chamber is looking forward to its next big event which is the annual banquet being held on February 18 at Cielo at Castle Pines (see page 19 for details).
For more information about the chamber or to purchase tickets to the annual banquet, visit the Castle Pines Chamber of Commerce website at www.CastlePinesChamber.com.