DCS Montessori students create hygiene packs for the homeless
February 1, 2016
/
/
Comments Off

on DCS Montessori students create hygiene packs for the homeless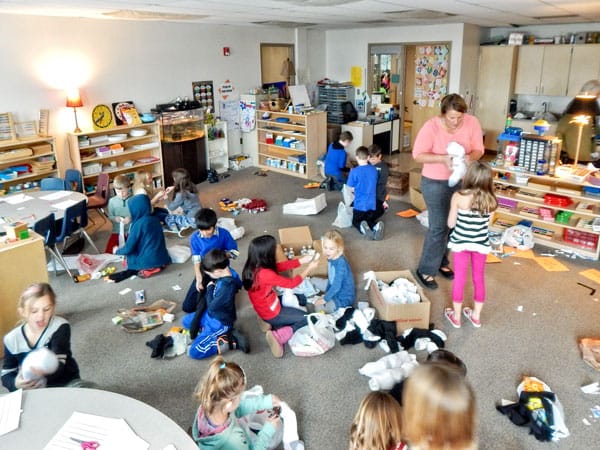 By Lynne Marsala Basche; photos courtesy of DCS Montessori
DCS Montessori (DCSM) teachers always strive to teach lessons that align with the Cougars values, which are compassion, ownership, unity, generosity, achievement, responsibility and success. First through third graders learned a valuable lesson in compassion and generosity by creating hygiene packs for the homeless.
Paul Brannberg's students donated items such as socks, water, lip balm, toothbrushes, toothpaste, dental floss, lotion, tissues, toiletries, and more. Together, the students created the hygiene packs, which will be distributed at the Denver Rescue Mission emergency shelter in downtown Denver.
When kids interact and have a holistic approach to a project, lessons become more powerful. By donating the hygiene pack items, making the bundles, talking about compassion and generosity, and discussing who the recipients are and why these essential items are in demand, the kids' eyes were opened to things they were previously unaware of.
Castle Pines resident and third grader Isaiah Hart-Nagao said, "Building hygiene packs for the homeless was a great idea, and I really hope they will enjoy them and will be very thankful."
"I was surprised by how eager the children were to donate items and build the hygiene packs," noted Brannberg. "They really internalized the experience. The most needed and least donated items in homeless shelters are socks, so we all hope we were able to make a small difference."
Not only did the students receive a tangible lesson in compassion and generosity, but they also created and donated more than 70 hygiene packs to the Denver Rescue Mission. Teaching kids about basic needs and how to help others is certainly a lesson that runs deep.