City Hosts First Golf Tournament at The Ridge at Castle Pines North
August 1, 2008
/
/
Comments Off

on City Hosts First Golf Tournament at The Ridge at Castle Pines North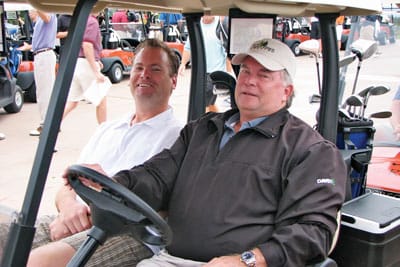 City council members Chris Dooley and Ron Clark participate in the city's first golf tournament. (photo by Terri Wiebold)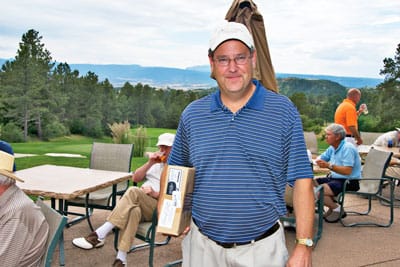 Tournament flight winner, Charles Schwartz, with a net score of 63 accepts his award. (photo by Tim Gamble)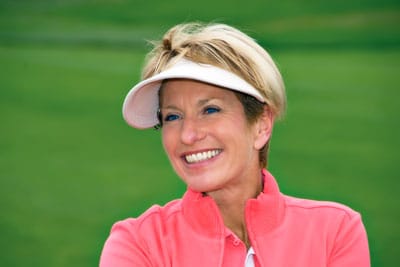 Barbara Saenger, Pine Ridge resident and employee at The Ridge, found a creative way to keep the tournament moving by playing a fun game with friends of what she called, "Best Ball, Do-Overs, and Gimmies!" (photo by Tim Gamble)


by Terri Wiebold
The City of Castle Pines North, in conjunction with The Ridge at Castle Pines North Golf Course, hosted its first city golf tournament exclusively for residents in July.
Avid golfers and amateurs alike joined together to make the day of 18-hole, "shotgun start" golf a fun and enjoyable one.
"We are happy to be partnered with the city in this event," said Mike Henritze, general manager at The Ridge. "The turnout was great and we were pleased to see such a good cross section of the community."
According to Henritze, more than forty of the 120 residents who participated in the tournament were relatively new to the sport of golf and did not have established golf handicaps.
For many such golfers, like two year resident Sondra Barry, the idea of golfing at The Ridge seemed intimidating at first. "I do not golf much, but this event seemed like a great opportunity to see up-close and first-hand what I have so often just driven past," said Barry. "The views and the course were spectacular," she said, "and I had a lot of fun playing in the tournament!"
Those with a more competitive spirit for golf vied for position in the end-of-day standings. The Ridge awarded prizes for the overall winner and runner-up in three handicapped flights: the championship flight – Paul Yourick and runner-up Steve Esterline; the tournament flight – Charles Schwartz and runner-up Al Koch; and the women's flight – Melanie Van Hole and runner-up Brenda Henrichs. Congratulations to the winners!
"The tournament was a huge success, and we hope to continue to have events like this in the future," said Travis McDowell, director of golf at The Ridge. "We encourage all residents to come and try the Troon golf experience and see what the buzz is all about. We have taken great pride as a team in improving what most people consider the best public access course in the state," he said.
GolfWeek magazine recently awarded The Ridge with its annual "Best You Can Play" designation for 2008. The award is based on design, conditioning and landscaping, and is evaluated by the 450 GolfWeek raters.
McDowell continued, "Golfers are going to be hard pressed to find another facility that places as much emphasis on combining superior service, conditions, and quality of layout as the one Castle Pines North residents have in their own back yards."
For more information about The Ridge at Castle Pines North, including rates and schedules, visit www.playtheridge.com or call 303-688-4301.