Community basketball courts coming to Coyote Ridge Park
November 1, 2016
/
/
Comments Off

on Community basketball courts coming to Coyote Ridge Park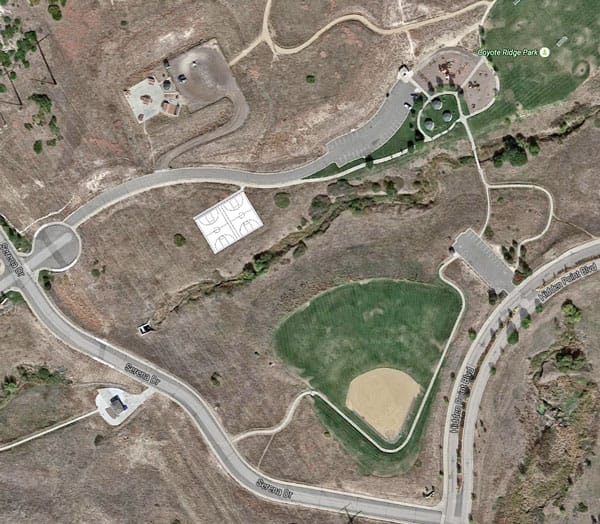 Next summer, residents of all ages will be able to enjoy new outdoor basketball courts at Coyote Ridge Park. As shown in this rendering provided by the Castle Pines North Metropolitan District, the courts will be located just south of the skate park and will offer added fun for outdoor enthusiasts who call Castle Pines home.
By Elean Gersack; information and rendering provided by Castle Pines North Metropolitan District
Coyote Ridge Park will soon be home to outdoor basketball courts thanks to the Castle Pines North Metropolitan District (CPNMD).
On Monday September 26, the CPNMD, which owns and maintains Coyote Ridge Park, submitted plans to the City of Castle Pines for two proposed basketball courts south of the skate park at Coyote Ridge Park.
"These new courts will be a win for our community. Basketball players, big and small, have been asking for a place to play outdoor ball and we're well-positioned to grant their wish," shared Jim Nikkel, CPNMD district manager.
CPNMD has secured funding from Great Outdoors Colorado to build and maintain the courts. This proposed community amenity will not be paid for with tax revenue.
Original plans were to build the courts at The Retreat Park, but the proposed plans drew concerns from the park's bordering neighbors. CPNMD went back to the drawing board and identified a new location within the four-square-mile service area in Castle Pines.
"We place a high value on community engagement," shared Nikkel. "When we learned about the concerns of some neighbors, we took the opportunity to rethink the location of the basketball courts. Coyote Ridge Park is a natural fit because its skate park draws youth from all over Castle Pines."
CPNMD has submitted plans to the City to seek approval for a grading permit to address drainage improvement and erosion control for the area, which requires administrative approval. Because CPNMD owns the land and the park, no other approvals are required. Assuming the timely issuance of the grading permit, CPNMD hopes to start construction soon and open the courts next summer.
Want to have a say in the colors? Visit the CPNMD on Facebook (www.facebook.com/cpnmd.org) in the coming weeks to take part in a poll to help decide the colors for the courts.