A boy's appreciation for cars beyond his years
August 29, 2014
/
/
Comments Off

on A boy's appreciation for cars beyond his years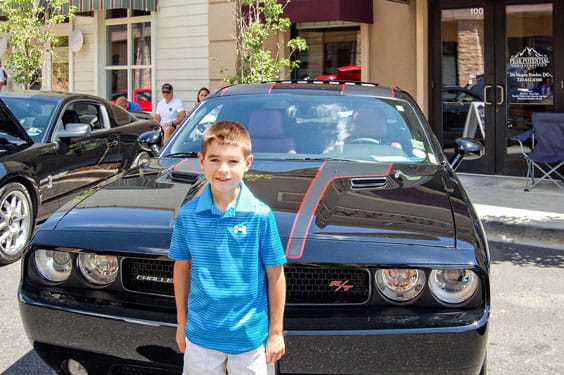 Seven-year-old Brady knows cars, and he loved checking them out at the Hot Rods in the Village car show in August.
Article and photo by Amy Shanahan
Several hundred people turned out in August to enjoy a gorgeous summer day and some really cool cars. The sixth annual "Hot Rods in the Village" car show sponsored by the Vintage Car Club of Castle Rock took place on August 16. A steady stream of browsers of all ages enjoyed viewing and talking with the owners of the numerous vintage and classic cars.
The Fabulous Parker Brothers band provided music, the Douglas County Veterans Monument Foundation hosted a beer and wine garden, and Tony's Market kept everyone fed with delicious grilled burgers.
Seven-year-old Castle Pines Village resident Brady is super enthusiastic and knowledgeable about cars and he couldn't get enough of the show. "I liked all the cars and seeing all of the older cars like the El Caminos," Brady remarked. "My favorite car in the show was a black Mustang but I also liked the Challenger (pictured) because they are really fast, and in my car game they always beat the Lamborghini."
When asked how he came to know so much about cars, Brady explained, "It's just how God created me!"
The Vintage Car Club of Castle Rock hosts several events throughout the year. For more information, visit www.thevintagecarclub.com.
To view a slideshow of the event, visit www.castlepinesconnection.com and click on "Photo Album."