A decade of friendship, sharing and giving comes to a close
February 1, 2015
/
/
Comments Off

on A decade of friendship, sharing and giving comes to a close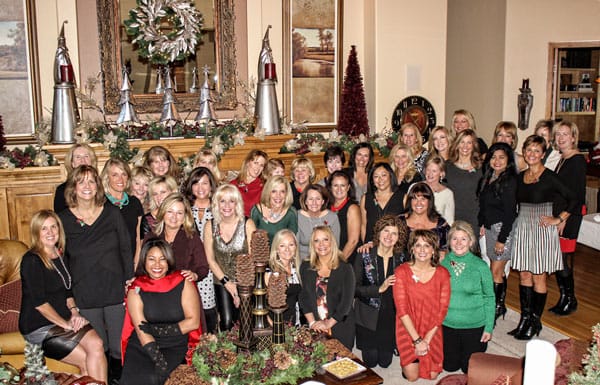 Guests of the "Annual Ladies Luncheon" go home each year with unique handmade wine charms, name tags, bookmarks and ornaments, along with a treat bag of a homemade goody and the gift they purchased at the auction. This annual event represents the true meaning of Christmas.

Hostess Cindy Hamilton (left) and her "right hand man" Celeste Siade (right) have worked tirelessly each year to provide an opportunity for sharing and caring with friends.

By Amy Shanahan; photos courtesy of Celeste Siade
Ten years ago, Forest Park resident Cindy Hamilton decided to start a new tradition of hosting a luncheon at the start of the Christmas season, and asked each attendee to bring a unique Christmas gift to share. This simple idea took on a life of its own, and over the years has become an amazing time of sharing and charity.
The "Annual Ladies Luncheon" has taken place each year on the first Friday of December, with more than 40 Castle Pines women in attendance. Hamilton hosts the event at her home and provides desserts and drinks, and each guest brings a salad to share along with a unique and inspired gift item.
Over the years, the party expanded to include a silent auction of the gifts, as well as a small live auction with items generously donated by the attendees.
All the money raised during the past decade (more than $42,000 total) has been donated to charities which empower women and families on both the local and global level. Recipients have included Families First of Colorado, the Douglas/Elbert Task Force, and Opportunity International.
Hamilton remarked, "The best part of this annual luncheon is the sharing of friendship combined with the fact that everyone was coming together, having fun, and ultimately helping others."
The women have even created three different cookbooks compiling their favorite recipes, and the proceeds from the sales of these cookbooks helped to build a school in Haiti.
Hamilton made the tough decision that this past December would be the last luncheon that she hosted. After ten years, Hamilton has much to be proud of, although she is quick to give the credit to others, "None of this would have been possible without the generosity of all of our wonderful friends and families."