A taste of …Vesta Dipping Grill
October 1, 2012
/
/
Comments Off

on A taste of …Vesta Dipping Grill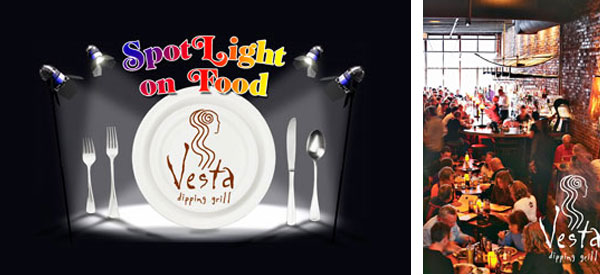 By Liane Marette Davis; photos courtesy of Abra Sharp
Have a running list of restaurants to try? Here is one that needs to be on the top of your list. Go tonight if possible; it is that fantastic. Where once was The Millar Spice Factory and Coffee Company in downtown Denver (dating back to the early 1900's) now houses Vesta Dipping Grill – celebrating its 15-year anniversay this year.
Vesta, the goddess of the hearth in Roman mythology inspired the blueprint of this unique, hip and sophisticated restaurant. The sensual aroma of intoxicating cuisine and warm ambiance cloaks you as you walk through its doors. Vesta is an architectural delight with its high ceilings, rustic brick throughout, sculptures, blown glass light fixtures, circular booths, and spacious surroundings.
The ever-talented Vesta chefs gather to create their seasonal menu that is updated every three months. The menu always reflects creativity, passion for unique flavors, seasonal ingredients, and eclectic tastes. If you are a dipper (and even if you are not) you will be in heaven. They have a sauce glossary with forty different flavorful sauces that complement your meal.
Begin with the Vesta roll ($12), delicate seared ahi tuna together with pickled cucumber salad, wasabi syrup and jalapeno ponzu or the golden ponzu shrimp ($12). For the main course, the madras grilled venison ($34) with pommes frites, ginger ale oyster mushrooms – the tasty sauces included: red curry, pineapple pedy marmalade and Steuben's chimichurri; or the garlic grilled scallops ($28) harmoniously matched with fingerling potatoes, fennel-arugula salad, and bacon aioli – the sauces: roasted corn, dried berry chutney and Hudson barrel hot sauce. All the desserts are all ridiculously scrumptious. The Yuzu French toast ($7) is absolutely to die for!
Vesta also hosts a Monday Supper every Monday. The chefs design a three-course menu and patrons can eat for $26.40 per person or $52.80 per couple (just like the 5280 Restaurant Week). View the menu the Sunday before. Because of their love for sherry and community dining (inspired by dining culture in Jerez, Spain), join the Vesta crew at the Beyond the Sauce dinner series. It is November 4, with 15 courses of tapas paired with sherry.
Don't have time to dine? Enjoy all the attention to detail from their décor to cuisine during happy hour at the stylishly designed concrete bar, which hosts a custom-built sangria dispenser, Monday through Friday from 5:00 p.m. to 6:30 p.m. Catch the discounted cocktails and small plates. Try some barrel- aged cocktails or "Vesta Whiskey" made with help from their friends at Leopold Brothers. The Vesta staff visits the distillery twice a year to participate in the entire process.
Vesta's house charity, Urban Peak (supporting Denver's youth) is having Plates for the Peak, a fundraiser dinner October 1. Visit www.urbanpeak.org for reservations. Have a gluten, lactose, nut, or shellfish allergy? Vesta has a menu for you, too.
Vesta Dipping Grill is located at 1822 Blake Street, Denver. Hours of operation are Sunday through Thursday, 5 p.m. to 10 p.m.; Friday and Saturday, 5 p.m. to 11 p.m. For more information, visit www.vestagrill.com or call 303-296-1970.