American Academy wins with scientific investigating
April 1, 2012
/
/
Comments Off

on American Academy wins with scientific investigating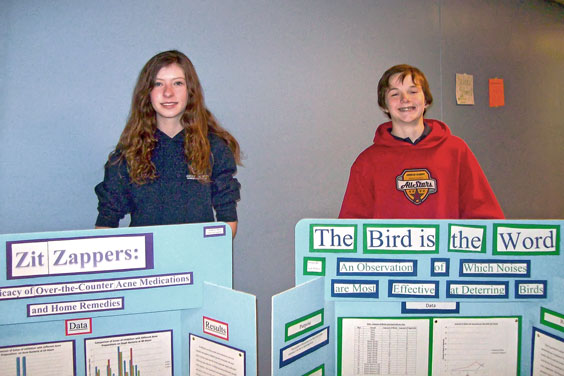 AA students, Kimberly Shelton and Jack Wilson, with their science displays that made them Science Fair Finalists.
Article by Kathy Dunker with photos courtesy of American Academy
American Academy (AA) seventh graders made a great showing at the Denver Regional Science and Engineering Fair on February 23. Displaying great professionalism and integrity, the kids worked hard and made their school proud.
The following students received awards at the fair: Grant Hengsteler, the Solar Award from Hutten Architecture; Matthew Carlson, the National Society of Professional Engineers Award; Lauren Lee, first place from the Soil and Water Conservation Society; Erich Nuss, third place in the Medicine and Health Sciences category; Michael Haney, third place in the Physical Science category; Spencer Kuhn, second place in the Physical Science category; Jonathon Bloom, the American Meteorological Society award as well as third place in the Earth and Planetary Sciences category; Jack Wilson, second place in the Animal Sciences category; and Kimberly Shelton, first place in the Microbiology category.
In addition, Joanna Foery's project was shared with Netsmartz.com which specializes in making kids aware of cyber bullying. The director of the company has shared Foery's research with his branch offices across the country.
Wilson and Shelton will go on to represent AA at the Colorado State Science and Engineering Fair at Colorado State University, Fort Collins from April 7 – 9.
To learn more about AA and their STEM curriculum, visit their website at www.americanacademyk8.org.