Brownie Troop 628 to Provide Input on New Park
February 1, 2009
/
/
Comments Off

on Brownie Troop 628 to Provide Input on New Park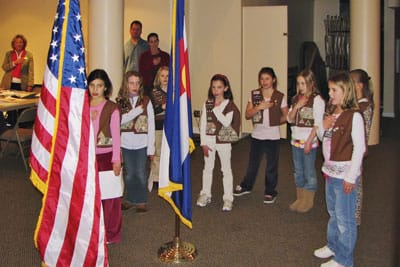 by Terri Wiebold
Eight members of local Brownie Troop 628 attended the February 11 Castle Pines North (CPN) City Council meeting to help celebrate the city's one-year anniversary of officially becoming a city and to work toward earning their "Citizens Near and Far" Try-It (badge).
The Brownie Troop opened the meeting with a presentation of the colors (American and Colorado flags) and led the audience in The Pledge of Allegiance and singing of the Star Spangled Banner.
"I was a little nervous about tonight, but I thought it would be pretty fun to do," said nine-year-old Surrey Ridge resident and troop member Megan Baer. "I feel a little special tonight."
Fellow Brownie Megan Criley also shared her thoughts about the experience. "The mayor talked to us about why it is important for us to do our part," said Riley. "It [the council meeting] was awesome!"
According to Troop leader Annette Loomis, the girls were especially excited about participating in a project with CPN mayor, Maureen Shul, relating to the new park at Lagae Ranch. The girls each went to parks in surrounding communities and took pictures of features they liked and things they would want to see in a new park in CPN. Bauer said her favorite feature was a water sprinkler feature that she took a picture of. The troop is anticipating presenting the photos to City Council sometime in March.
"I think it is very important for the girls at this young age to be involved in the community," said Loomis. "What they do now will build and shape their behavior in the future." According to Loomis, the mayor had quite an impact on the girls when she spoke to them about doing their part in the community. "She [Shul] emphasized that there are those in the community who need more special care…that we need to take care of the young and the elderly in the community," said Loomis. This advice has had an impact on the girls and they have mentioned it many times, she said.
All 14 members of Brownie troop 628 successfully completed the required tasks and earned their Citizens Near and Far Try-It. Congratulations girls!