Castle Crocs, Daz Bog partner for registration
April 1, 2009
/
/
Comments Off

on Castle Crocs, Daz Bog partner for registration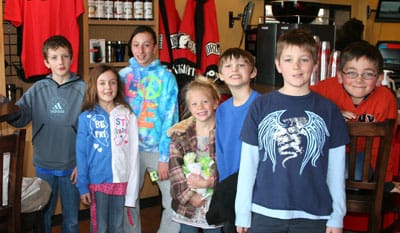 Castle Crocs swimmers from left to right: Andrew Steavpack, Molly Steavpack, Chole Civello, Ellie Fox, Johnny Koerner, Reid Warburton, Eddy Warburton.
Article and photo by Carin Kirkegaard
The Castle Croc swim team registration arrived early this year, but that didn't stop an overwhelming response from Castle Pines North (CPN) swimmers who lined up to join the team at local CPN business Daz Bog.
The 2009 season will be the second year that the Crocs and Daz Bog have partnered in support of the CPN community. Last season, Daz Bog sponsored the team by offering a free chiller or smoothie for each swimmer that improved a swimming time from one meet to the next and have signed up to hand out chillers for improved swimmers again.
After coaching kids for many years, Geoff Newman, Daz Bog owner, remains motivated to help youth organizations and sees rewarding the swimmers of CPN with a treat as a way to give back.
"We gave away close to 300 drinks last summer," said Newman.
"My favorite chiller is the vanilla bean with whip cream and chocolate. I love getting a free chiller and it definitely made me swim harder," said Crocs swimmer Eddy Warburton.
"Swimmers benefit from both team camaraderie and individual achievement. The Daz Bog chiller rewards each swimmer for improving times regardless of where they may have placed in their races. Not everyone may get a ribbon, but everyone can be a winner when they do their personal best," said Kathleen Steffe, parent representative for the Crocs.
Beginning its fourth season, the Crocs team has grown each year both in numbers and in ability. This summer the team is looking to purchase diving blocks, not only to allow the team versatility in hosting home meets, but also to enhance practices with the growing team's swimmer ability.
With this expense, the Crocs are seeking sponsors interested in helping the team with diving blocks, heating benches and kick boards.
Companies interested in sponsoring the Crocs will have their company name and logo printed on home meet heat sheets and on the team's web site at www.castlecrocs.com. For more information on sponsorship, contact the Crocs at Contact by e-mail.
The Castle Crocs will hold practice in the mornings Monday through Friday at the HOA2 pool beginning May 28. The pool is located on Oxford Drive in the Kings Crossing subdivision.
As part of the Mountain High swim league (www.mhsl.org) the Crocs will swim in five dual meets, preliminaries, championships and qualified swimmers will swim in an all-star meet. The season runs from May 28 through July 25.
As a nonprofit parent run organization, the team, with the exception of paid coaching staff, is operated with parent volunteers and the help of local HOAs, businesses and families.
The Castle Crocs thank HOA1 and HOA2, Daz Bog, Little Italy, Colorado Kids Pediatric Dentistry, Drs Lisa Fox and Patrick Wilson, Safe Splash Swim School and CPN family the Swiateks.