Castle Pines North teenagers learn about civic service
August 1, 2009
/
/
Comments Off

on Castle Pines North teenagers learn about civic service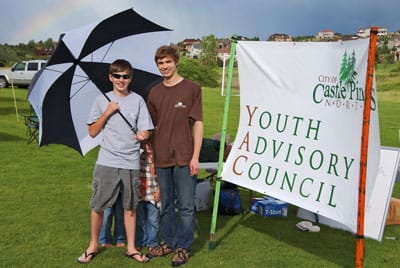 by Lisa Crockett
A newly-formed group of young people is learning about local government, while providing a valuable service to the Castle Pines North (CPN) community.
The City of Castle Pines North Youth Advisory Council (YAC), comprised of eight teenagers ranging in age from 13 to 18, meets weekly to discuss matters of importance to city residents and to plan ways they can serve in the community. In June, the group sponsored a walk – called "Walk in the Pines" – and raised $380 to benefit Children's Hospital.
"Having a Youth Advisory Council gives our youth the means by which to voice their concerns and work on projects and events that are important to them," said CPN's mayor, Maureen Shul. "Their wanting to do the 'Walk in the Pines' fundraiser for Children's Hospital soon after being established speaks highly of their commitment to worthy causes and community spirit."
Shul called for applications to the group last January, and the group was formed late last spring. Since the group is new, their mission and responsibilities are evolving, but Shul would like to see their role in the city grow.
"We would really like to have them participate actively in city council meetings," she said.
Members of the council have goals as well – and lofty ones at that.
"Our number one goal is to make our community a better place to live," said Chris Bonham, who serves as the group's treasurer. "Secondly, I would like to see the YAC have an increasingly active voice in government decisions. I would like to see this council become an integral part of our city's government."
Chris's brother, Daniel, is also on the Youth Advisory Council, and admits that it wasn't initially his idea to become involved in the group.
"My mom made me go at first," he said. "But I soon grew to like it. It's great helping others."
Chris says he also enjoys the birds-eye view of local government that the council provides.
"They [city leaders] work very hard, and I think it's disappointing at how little recognition they receive."
For more information about CPN's Youth Advisory Council, visit www.cpngov.com.