Castle Pines real estate market heats up
July 1, 2013
/
/
Comments Off

on Castle Pines real estate market heats up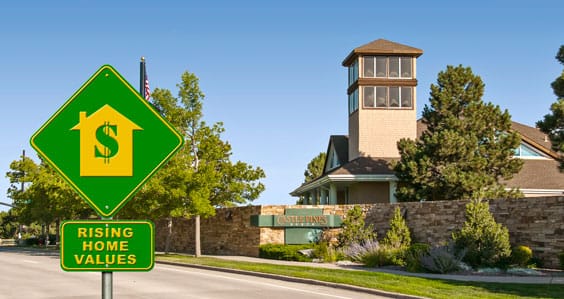 A scarce number of houses on the market, low interest rates, and rising demand means houses in Castle Pines are selling faster – and for more money – than they were just a year ago.
By Lisa Crockett; photo illustration by Tim Gamble
Real estate sales in the 80108 zip code are brisk – things are moving in a way they haven't in years. Prices are up and the time houses spend on the market is down. It's the perfect summer storm – low inventories of homes on the market (just 197 homes in the 80108 zip code were available, with another 117 under contract as of press time), rising demand, and low interest rates means the real estate market is the healthiest it's been in years. There's even some new residential construction planned to begin here soon – builder Taylor Morrison will break ground on a new subdivision in The Village later this month.
"Word of mouth has been a big part of the market in the last several months," said Derek Kliner, a real estate agent in the Castle Pines area. "The houses priced in the $300,000 – $400,000 price range are often selling in 24 hours or less."
The majority of the houses in Castle Pines are priced above that level and are not selling as quickly, but are still moving substantially faster than they were just a year ago.
The average price for a house in the Castle Pines area is $558,515; an average home here is roughly 3,000 square feet and costs about $186 per square foot. According to data released by Land Title, homes for sale in Castle Pines (part of the Douglas County "west" area as designated by the Multiple Listing Service, which provides real estate data nationwide), houses are selling for about four percent more and spending an average of 28 percent fewer days on the market before sale than they did one year ago.
Last May, houses in the area were on the market for about 100 days. This May (the most recent statistics available), houses spent about 72 days on the market before sale; for houses priced below $500,000 that average dropped to 61 days.
"The best advice I have for buyers right now is to get pre-approved for a loan from a reputable lender before they make an offer," said Linda Clure, a Castle Pines resident and long-time real estate agent specializing in Castle Pines properties.
"As things are picking up, I have seen deals fall through because the lending wasn't in place ahead of time," continued Clure. "If you need help finding a lender, your real estate agent should be able to help."
And though the market is favorable to sellers, it's still important to employ good strategy in putting a house on the market.
"It's really important to price your house right," said Kliner. "Don't overprice it, but do 'challenge' the market just a little. Look at what comparable properties in your neighborhood are selling for and inch it up a little from there."
Katie Propst-Graham and her husband, Adam, knew what they wanted in a house. When the couple met with Clure, good schools for their son ranked high on their list of "must haves," as did walking trails, parks, and access to shopping.
"We were pretty set on living Highlands Ranch, but when we looked there we didn't find what we wanted," said Propst-Graham. "When we came to Castle Pines North, we fell in love with the topography, the views and the open space. We also loved the easy access to I-25."
After roughly a year in the BriarCliff neighborhood, Propst-Graham says she can't imagine living anywhere else.
"We love the small-town feel of the area," said Propst. "When we moved in, so many of the neighbors dropped by with notes and plates of cookies to welcome us. When it snows, neighbors clear each other's driveways and when we do yard work, everyone spends time talking to each other outside. We love it here."
Unlike "hot" markets of the past when houses might sell in sub-par condition, buyers now are fairly cautious and tend to be well informed about area trends before they start to look.
Clure stresses the importance of attractive and well-maintained properties – inside and out. She reminds sellers to make sure minor repairs are completed, paint is fresh, and the house has been de-cluttered, organized and deep cleaned.
"We really do have it all here in Castle Pines," said Clure. "Easy access to I-25, convenient grocery shopping, beautiful surroundings and walking trails, great golfing and excellent schools. This is a great place to live and buyers know that."
For more information about Linda Clure at Prudential Preferred Real Estate, visit www.lindaclure.com. For more information about Derek Kliner at Re/Max Professionals, visit www.derekkliner.com.