Chalk, charity and fun brighten up local nonprofit
October 1, 2017
/
/
Comments Off

on Chalk, charity and fun brighten up local nonprofit
Article and photos by John Basche; photos courtesy of Zoë Zizzo and Megan Hassler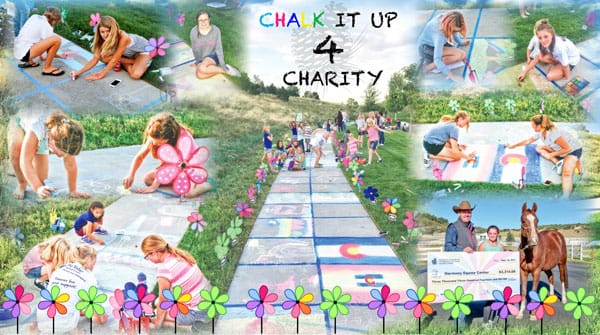 With Party in the Park providing the inspirational backdrop, 100 Castle Pines budding artists crafted their sidewalk chalk interpretations of "What I love about Castle Pines" as part of the Chalk It Up 4 Charity event and contest on Saturday, August 26.  While an impressive array of young talent showcased their pastel palette and concrete canvas skills, 11-year-old artist Isabella Bird's sidewalk creation was selected as most representative of the contest's theme.
Asked about her winning drawing, Bird said, "At Daniels Gate Park, there is a lookout that my family goes to a lot, and I wanted to challenge myself with my drawing. I thought that it was the best thing to draw."
As winning artist, Bird personally selected the Denver Dumb Friend's League Harmony Equine Center as the recipient of the event proceeds.  "I chose the Harmony Equine Center because I love horses and other animals," said Bird. "They are really important to me, and they deserve good homes."  Bird personally presented a check for $3,314.69 to Executive Director Garret Leonard.
In addition to Bird, contest runners-up Avarie Perovich and Chloe Voss received gift certificates to Castle Rock Zip Line Tours.
The Castle Pines Connection created Chalk It Up 4 Charity to provide an opportunity for younger residents to showcase their creativity while learning the importance of supporting worthy Douglas County causes.  Also, the event allowed the business community an opportunity to connect with younger residents and families in a new and fun way.
"Party in the Park brought the community together in celebration of another great summer season, and this seemed like the perfect way to put an exclamation point on that event," said Terri Wiebold, publisher of The Connection.
"The fact that 100 percent of the proceeds went to a Douglas County nonprofit made it even more significant."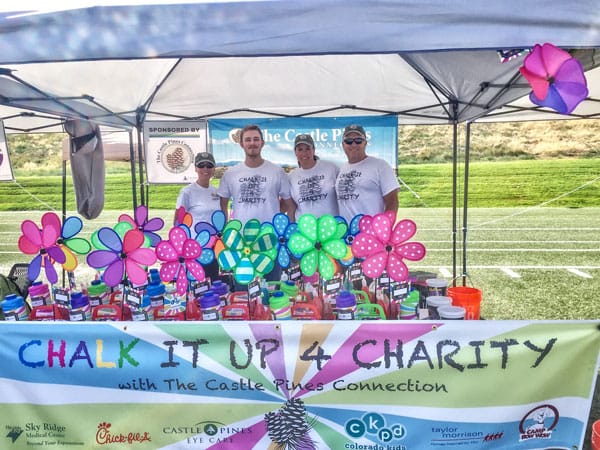 While the Chalk It Up 4 Charity spotlight shined brightest on the young artists, the event also showcased the neighborly spirit of the participating business and community sponsors, all of whom made generous donations to the event's fundraising efforts.  Corporate sponsorships made possible the fun participant baskets, which contained an event t-shirt, bubbles, chalk, a free kids meal at Chick-fil-A, a carry caddy, some "creative juices" and a colorful flower pinwheel to mark each artist's spot.
Perhaps the most difficult part of Chalk It Up 4 Charity fell to the judges, who were local artist Jerod Anderson, Castle Pines Mayor Jeff Huff and The Connection's managing editor Lynne Marsala Basche. The trio's challenge was to choose between many worthy and creative sidewalk creations, paying special attention to use of color, creativity and overall expression.
Judge Jerod Anderson summed it up best, "Events like the Party in the Park really show how we can come together as a community and just have a good time; it is always fun seeing kids join me in drawing. What really made this special was watching what these kids created for the event. Seeing beautiful sunsets, Colorado flags and even a buffalo or two in these artists' creations really helped drive home how great Castle Pines is. One participant even brought her own chalk to work with, which I thought was pretty awesome! And since the proceeds went to charity, it made it more than just drawing on the ground. It really showed that people and kids in Castle Pines care, while also knowing how to have fun."
"I loved chalk it up for charity," said Bird. "I had lots of fun, and it made me really happy. It felt good to support a good cause."  The Connection is looking forward to making Chalk It Up 4 Charity an annual event!