Christian Brothers Automotive owners embrace company and community
February 1, 2018
/
/
Comments Off

on Christian Brothers Automotive owners embrace company and community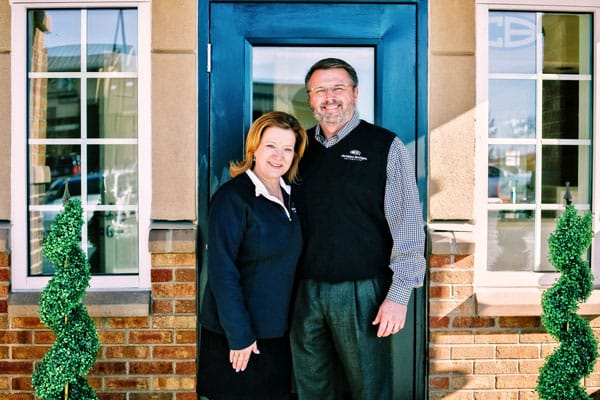 Andrea and Steve Peterson own the Castle Rock Christian Brothers Automotive franchise and just opened their new Lone Tree location in January.
By Elizabeth Wood West; photo courtesy of Andrea Peterson
When Steve and Andrea Peterson entered their "empty nest" phase of life, they decided to leave their home in Texas and relocate to Colorado, a longtime favorite vacation destination. Steve spent 25 years in banking and building venture capital and private equity-backed companies in the health care industry, recently serving as CFO and then CEO of a hospital company. Andrea worked in event management, specifically in commercial real estate; she currently teaches at Metropolitan State University (MSU) for the Event and Meeting Management bachelor's degree program.
The Petersons wanted to open their own business and began researching franchising opportunities that would allow them to work together. The couple chose Christian Brothers Automotive (CBA) because of their positive experience as 10-year CBA customers and the company's values, business model and support for franchisees. The Petersons opened their first CBA in Castle Rock in 2014 and opened their second location in Lone Tree this past January.
Steve said, "We love this business and our team because Christian Brothers is a difference-maker in the industry. We can take a long-term view because we know that we're truly building something to last. I genuinely wake up every day excited to go to work because we get to build relationships with our customers, deliver an incomparable level of service, and help our customers make the best decisions for themselves and their vehicles for the long run."
Ever since the Petersons opened their first franchise, they have embraced CBA's corporate founding principle, "treat others as you want to be treated." The Petersons are Castle Pines Chamber members, and Steve has served as president. "The experience of serving as the Castle Pines Chamber president was a great opportunity to give back to a community that has been extremely supportive of our business and to learn more about the people and businesses that comprise Castle Pines," said Steve.
Additionally, the Petersons, along with other local CBA owners, helped sponsor the inaugural Hide in Plain Sight gala in 2016 and were a title sponsor of the second annual 2017 event, which raised approximately $120,000 in donations. (Hide in Plain Sight is a Douglas County nonprofit that raises awareness and funding for at-risk students in the areas of education, food and shelter. To learn more about Hide in Plain Sight, visit www.castlepinesconnection.com, and enter "Hide in Plain Sight" in the Search field.) "The senior experience class I teach at MSU Denver provided all the decor planning and some specialty entertainment for the inaugural gala in 2016, and I served on the overall planning committee because of that relationship," said Andrea. For more information about the Peterson's CBA locations, visit www.cbac.com/castle-rock/.