Christmas tree time … get your cutting permits soon
November 1, 2017
/
/
Comments Off

on Christmas tree time … get your cutting permits soon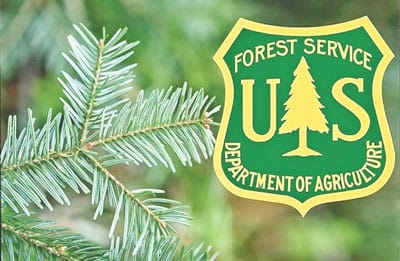 Information provided by the USDA Forest Service
Taking a family jaunt into the mountains can be a fun holiday outing for family and friends. The forest service has a few cutting areas set aside for Christmas trees here in the mountains of Colorado. Two fairly close Front Range locations to find the family tree are the Buffalo Creek and Rampart Range Road cutting areas. Cost for a tree is $10 in both areas with a limit of five per household. Chainsaws are not allowed – only handsaws or axes can be used for cutting. Check the websites for detailed rules and regulations about cutting trees. The websites also have detailed maps of the cutting areas.

Buffalo Creek
The South Platte's holiday tree program is being offered in two locations this year to cut a Christmas tree. Buffalo Creek and Camp Fickes (this site limited to 75 permits per day). At the Camp Fickes area there is no camping, no trailers and no picnics within the cutting area and only vehicles equipped with four-wheel drive capability are allowed in the area.
Downloadable forms are found online at www.fs.usda.gov/detail/psicc/passes-permits/forestproducts/?cid=fseprd519650. Scroll down to the bottom of the webpage for permit form, rules and regulations, FAQs, and a map of the cutting area. Permits can be purchased at the South Platte Range District office. There is a $10 fee per tree with a limit of five trees. Mail your check and holiday tree order form to Holiday Tree Permits, 19316 Goddard Ranch Court, Morrison, CO 80265. Please include one stamped self-addressed business envelope per every two permits, with a postage stamp on each envelope to receive your permits back in the mail. No on-site permits will be available for purchase.
Dates for tree cutting in the Buffalo Creek area are Friday, November 24 through Thursday, December 7. Please check the Holiday Tree Permit order form to see days and dates. Cutting permits are valid only for the day the permit is dated. Permits sell out quickly. Be sure to check the rules and regulations prior to going to the mountains to cut your tree. No chainsaws, axes or power saws are allowed.

Rampart Range Road
Christmas tree permits can be purchased from November 27 through December 15, Monday – Friday from 8:00 a.m. – 4:30 p.m. at the Pikes Peak Ranger District office, 601 South Weber Street. The telephone number is 719-636-1602. No mail orders will be accepted.
Permits will be available on site at Woodland Park Middle School, 600 East Kelly Road at the east parking lot on December 2 and 3, as well as December 9 and 10, from 8:00 a.m. to 2:30 p.m. (Cash and check only on weekends.) On December 9, parking will be limited as Christmas tree sales will be located near the ballfield, in the upper gravel lot. Permits are $10 per tree, with a limit of five permits per person. No credit cards accepted at the sales trailer, which will be located in the middle school east parking lot.
Trees may be cut any time after purchase of permit through December 15.
For more information, visit www.fs.usda.gov/detail/psicc/about-forest/districts/?cid=fsm9_032551.