"Cinda BlockYa" – Castle Pines North's own roller derby queen
August 1, 2009
/
/
Comments Off

on "Cinda BlockYa" – Castle Pines North's own roller derby queen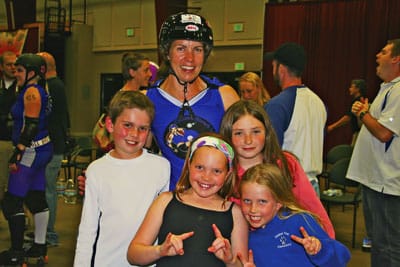 Cinda BlockYa with CPN fans who came to support her in the Castle Rock n' Rollers inaugural bout.

Article and photos by Carin R. Kirkegaard
Cynthia M., aka Cinda BlockYa, Castle Pines North resident, stay-at-home mom, recreational enthusiast and volunteer also just happens to play the position of jammer/blocker for Castle Rock's roller derby team, the Castle Rock n' Rollers.
The Castle Rock based team plays old school, full-contact competitive roller derby. The team skates (on four wheels) around a flat, oval track in a counter-clockwise direction with the object being to have key players pass members of the other team.
To prevent this scoring action, players block each other, most often in a very physical manner, and frequently drawing penalties.
Unlike many growing up in the day when roller rinks were on every corner and the past time of choice, Cynthia says it's her natural athletic ability that allows her to skate so well at age 49, rather than endless days spent skating at the local roller rink.
"As a kid I probably skated three times a year," said Cynthia.
Viewed as one of the elders on the team, Cynthia says, "This is my mid-life renewal. I'm going for the gusto."
The next bout for the Castle Rock n' Rollers will be August 5 against the Pueblo Derby Devil Dolls at the Douglas County Fairgrounds.
Although made up of former derby competitors, the Castle Rock n' Rollers are a new team to the roller derby arena and are Castle Rock's first team in the sport. The team started practicing together in January and has held various scrimmages.
The team is seeking new recruits.
To find out more, visit www.castlerocknrollers.com.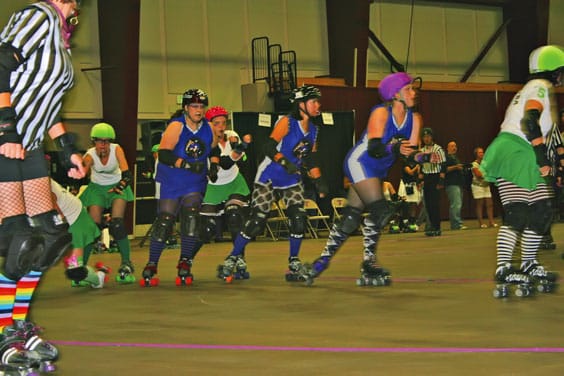 Step aside Raquel Welch and the Kansas City Bombers, there's a new team in town. The Castle Rock n' Rollers is a new roller derby ream hiting the scene. Here they are at their inaugural bout at the Douglas County Fairgrounds on June 12.