Colorado is definitely the state for dog lovers
October 1, 2018
/
/
Comments Off

on Colorado is definitely the state for dog lovers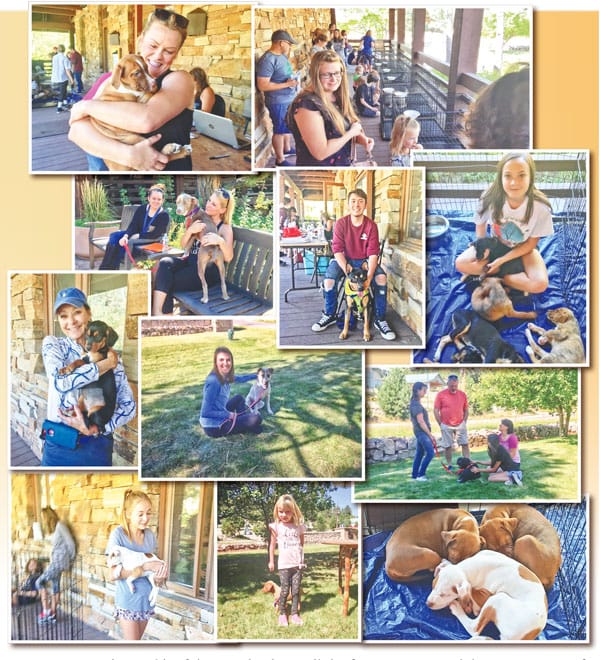 Article and photos by Patte Smith; Photos courtesy of Jan Comstock
People from all over Colorado follow the Douglas County Canine Rescue (DCCR) organization that is made up of volunteer foster dog parents. It is an eye opener to chat with these individuals who are committed to animal welfare so much so that they are able to let go when someone adopts one of their foster dogs. "We know when we do this that it is temporary, even if we love these dogs or puppies. We are a stepping stone to a good home for them," explained one of the foster parents.
On the flip side, the new adoptive families are committed too. Families not far from Boulder, Telluride, Estes Park, Colorado Springs, the Eastern slope, Castle Rock, Castle Pines and others adopted dogs and puppies at the event.
The families with children could hardly say no. A few people came "only to look" ended up adopting a new canine companion. A lady equestrian from Castle Pines could not let go of a puppy, saying that she and the puppy were in seventh heaven (as the saying goes). One little girl got her first puppy – that was touching and especially exciting! The sweetest two-year-old black lab mix cuddled up to a family who could not resist it.
It was an amazing and joyful event thanks to all the foster parents and the new owners of very lucky and special pets. Twenty dogs were adopted. Special thanks to LIV Sotheby's International Realty – Castle Pines, located at 482 West Happy Canyon Road, for hosting the event. To learn more about the DCCR, visit http://www.douglascountycanine.org/.