Communication Continues with CC-20 Development
November 1, 2005
/
/
Comments Off

on Communication Continues with CC-20 Development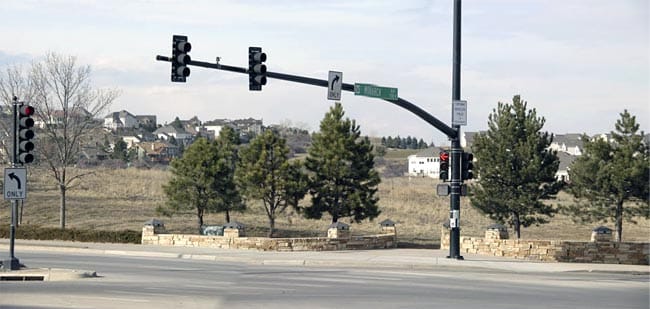 In November, members of the Castle Pines North CC-20 Committee met with Ron Skarka, Vice President of Planning for Village Homes. Village Homes has withdrawn previously submitted development plans due to community objections.
CC-20 is the 15.7 acres of commercially-zoned land on the northwest corner of Castle Pines Parkway and Monarch Boulevard, owned by Village Homes and Pinark, LLC.
The meeting was precipitated by a letter from the Castle Pines North Metro District to John Osborn, Village Homes CEO. In late October, the Metro District sent a letter to Village Homes requesting a meeting with Village Homes and the CC-20 Committee. In the letter, Metro District Manager James McGrady writes: "The Board wishes to introduce you to a group of concerned citizens that has been addressing the Board, and endores their desire to meet directly with you to discuss their concerns and thoughts related to the CC-20 parcel." The letter continues by requesting the CC-20 Committee be allowed to present results of the community-wide survey to Village Homes.
During the meeting with Village Homes, the CC-20 Committee presented their findings of an informal research survey conducted in early 2005.
More than 1,600 surveys were returned with more than 90 percent preferring the land be used for a park or open space. Only six percent of residents surveyed preferred commerical development on this land. In addition, Skarka also informed the Committee that the previous plan for seven commerical parcels was being revised.
"This was due, in part, to Village Homes hearing loud and clear that our community did not want commerical on this land," said Jonette Brown Eyes, CC-20 Committee Chairperson.
According to Brown Eyes, Village Homes is still involved in the planning process but hopes to file a plan with Douglas County in January. This plan may include a possible reduced section of commericial development. Village Homes is considering using the remaining land for residential development. "From the meeting, we learned that the types of homes will come from the products that Village is currently building and will not be high-density," said Brown Eyes.
Further communications between the CC-20 Committee, the CPN Metro District and Village Homes are on-going. Watch for more information via e-mail or at www.cpnhoa.org.
For more information, contact the CPN Master Association at 303-482-3078, or e-mail admin@cpnhoa.org. To contact the CC-20 Committee, e-mail buycc20@cpnhoa.org.