Community joins together for Independence Day celebration
June 1, 2009
/
/
Comments Off

on Community joins together for Independence Day celebration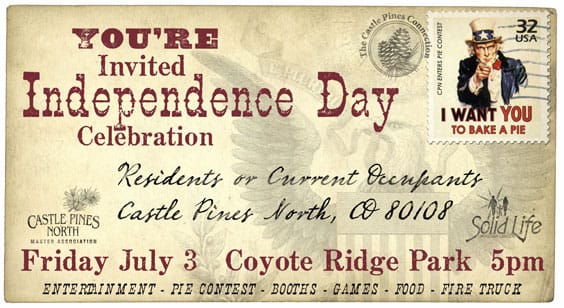 by Lisa Crockett
Just a few short months ago, the City of Castle Pines North (CPN) celebrated its first birthday. Next month, our Nation will celebrate its 233rd birthday, otherwise known as Independence Day.
Residents in CPN are invited to join neighbors and friends in Coyote Ridge Park on Friday, July 3 for an old-fashioned Independence Day celebration. The party will be held from 5 p.m. until 8 p.m. and will feature fun activities for young and old alike.
"There will be entertainment, a fire truck spraying water for the kids, booths, a pie contest, and a ceremony that honors our country and our community's veterans," said CPN Mayor Maureen Shul.
Booths are available at no cost to any HOA, club or group who wishes to participate in the celebration.
The Castle Pines North Master Association is sponsoring the evening's entertainment. Solid Life Christian Center and The Castle Pines Connection, LLC are sponsors for the event as well.
"I feel it is important for everyone to celebrate the great heritage of our country and the bravery of our founding fathers," said Master Association President, Earl Millspaugh. "Music has always been a part of that celebration and thus our commitment to ensure that this element was included in the city's celebration."
Editors Note: Independence Day is the national holiday of the United States of America commemorating the signing of the Declaration of Independence by the Continental Congress on July 4, 1776, in Philadelphia, Pennsylvania. City offices will be closed Friday, July 3.
For more information, visit www.cpngov.com.