County to Coordinate Mail Ballot Election
October 1, 2007
/
/
Comments Off

on County to Coordinate Mail Ballot Election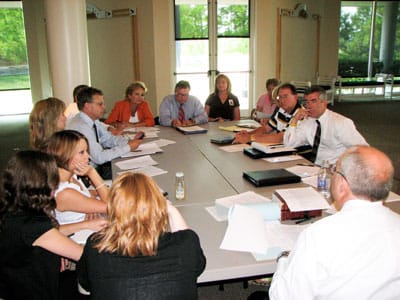 Incorporation Election Commissioners for Castle Pines North and the Preservation Steering Committee meet with legal counsel to discuss the November 6 election details. (photo by Terri Wiebold)

by Terri Wiebold and Lisa Crockett
The long lines to vote can be avoided this November. For elections in odd years, Douglas County has the option to utilize mail ballots to hold an election.
In August, the nine appointed Election Commissioners for the proposed City of Castle Pines North (CPN) unanimously voted to participate in a coordinated mail ballot election with Douglas County for the November 6 election. While participating in the coordinated election with Douglas County will cost CPN approximately $2,600, conducting an independent election could have cost the community tens of thousands of dollars, according to CPN's legal counsel.
"The mail-in-only ballot represents a significant cost savings to citizens," said Douglas County Clerk and Recorder Jack Arrowsmith. This method of collecting votes has been deemed appropriate during "smaller" elections (when Colorado voters are not voting for a governor or a president, for instance.)
In a mail ballot election, ballots are mailed to all active, registered electors within Douglas County who appear in the County's voter registration records as of 29 days prior to the election. An elector is considered "active" if he or she:
• cast a ballot in the last General Election (November of 2006);
• registered to vote since the last General Election; or
• made an update (such as an address or name change) to his or her voter registration record.
Mail ballots are especially convenient for disabled voters and enhance the inclusiveness of the democratic process. It is convenient and easy for voters to consider a mail ballot in the comfort of their own homes, and it allows more time for voters to study issues before marking and returning ballots.
Ballots will be mailed to every active registered voter in Douglas County by October 12.? If a ballot does not arrive by October 22, please call 303-660-7444.
Casting a Ballot
There are no polling places in a mail ballot election other than an on-site polling place in the City Clerk's Office.
Ballots cannot be forwarded, so any elector who has moved and who did not change his or her address with the Douglas County Elections Office will not receive a ballot. The ballot will be returned to the City Clerk as "undeliverable."
Ballots must be returned to the City Clerk by 7 p.m. on Election Day – November 6, 2007. A postmark on Election Day does not count unless the ballot is physically in the hands of the City Clerk by 7 p.m.
Processing of Ballots
Every effort is made to ensure the secrecy of an individual's vote during the processing of ballots. Ballots are processed in an assembly line manner, so that by the time the ballot is unfolded for counting, all identifying information has been removed. No fewer than four people are required to process ballots as follows:
Step 1: One person opens the envelope
Step 2: Another person removes the folded ballot from the envelope
Step 3: Another person removes the ballot stub from the (still folded) ballot
Step 4: Another person unfolds the ballot and prepares the ballot for counting
Steps two and three remove all identifying information from the ballot before the ballot is unfolded and votes are revealed. This assembly line processing enables 250 ballots to be processed in approximately 15 minutes.
Ballots are scanned using electronic equipment rented from an election vendor. It is the same equipment that the County uses in its polling place elections. Voting results are not known until after 7 p.m. on Election Day. The machines scan the ballots and store the votes on a memory card, but do not display the results until the data is transferred to tabulation software after all of the ballots have been scanned through the machines.
At least two of the appointed Election Commissioners from CPN will be present while Douglas County officials count the final ballots.
To learn more about the November election, please visit www.douglasvotes.com.