Cultural Arts Center under construction in south metro area
August 1, 2010
/
/
Comments Off

on Cultural Arts Center under construction in south metro area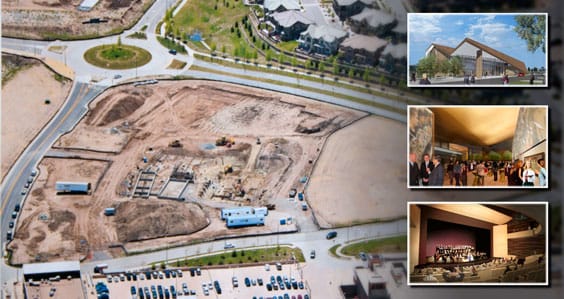 The City of Lone Tree is building a new state-of-the-art performing arts center one-half mile west of I-25 off of Lincoln Avenue just north of Castle pines in the RidgeGate development. Designed to serve residents throughout the region, the Lone Tree Arts Center will feature a 500-seat main theatre; a 150 – 225 seat multipurpose room for performances and meetings; and a 200 – 400 seat outdoor terrace theatre. Programming will include national and regional performing artists, educational programs for children and adults, and facility rentals to local arts groups and businesses.

By Lisa Crockett
A defining event is taking place in Douglas County's cultural landscape, and three members of the Castle Pines Community have a hand in making it happen. Richard Egitto, Michael Mimick and Joe Cantalamessa, who live in the Castle Pines community, are all members of the Lone Tree Arts Center Captial Campaign Cabinet – a group dedicated to raising funds to provide special features and amenities to the Lone Tree Arts Center.
The Arts Center, currently under construction in RidgeGate (adjacent to Super Target), is being funded by an $18.5 million bond approved by voters in the City of Lone Tree in 2008. Land for the center was donated by Coventry Development, developer of the RidgeGate community.
The Center will feature a 500-seat theater, a 150- to 225-seat theater/meeting space, an outdoor theater area, a Grand Entry Hall and a gallery space. Funding for these features is provided by the bond issue and land donation. Eggito, Mimick, and Cantalamessa are working on a campaign to provide additional, upgraded finishes and amenities within the building.
"I enjoy getting to meet all the potential investors that want or need to be involved in this once-in-a-lifetime opportunity to support the arts in Douglas County," said Egitto, who is senior managing director at Crimson Services Commercial Real Estate. "I find that once I get a chance to explain to community and business leaders what we have here . . . they simply understand that this project which is already under construction and will be delivered, will be a wonderful addition to the south metro area."
Upgrades and amenities that the Capital Campaign Cabinet seeks to fund include outdoor seating and design, enhancements to the entry plaza like upgraded lighting and landscaping, upgrades to lighting and fixtures in the Grand Entry Hall and performance areas, acquisition of specialized theatrical equipment, garden beautification, and meeting amenities like room partitions and portable refreshment stations.
"I think the ease and convenience of the location of the new Center will attract area residents," said Mimick, who is a director and branch manager at UBS Financial Services.
"This will be a different venue for businesses in the area to entertain clients, and there are sponsorship opportunities for local businesses as well," said Mimick.
Donors who make significant contributions to the Lone Tree Arts Center will be recognized in a permanent display in the Grand Entry Hall.
"Naming opportunities exist," said Lisa Rigsby Peterson, the executive director of the Lone Tree Arts Center. "Donations can be made to name a room or an area of the Arts Center after yourself, a family member or a loved one."
Upon completion, the arts center will feature music, art, plays, dance and educational programs. Art Center facilities will also be available for rent for meetings and events.
"This will be key to the fabric of the community," said Egitto. "Currently we have to travel north to enjoy any of Denver's varied entertainment options. Closer proximity will increase the number of times residents will enjoy the facility, which will be used by the local and regional community."
The $21 million development of the Lone Tree Arts Center is also benefitting the community by bringing immediate business to regional architects and local contractors, and employing over 500 construction workers. Once open, the Lone Tree Arts Center will employ approximately 10 full-time employees and many part-time employees dedicated to bringing arts and culture to the south-metro region.
"At peak of construction, we will have approximately 80 people working on site at a given time. Over the life of the project, we will have around 500 different employees engaged in the project," said Randy Henckel, Senior Project Manager for GE Johnson Construction Company.
After a March 18, 2010 groundbreaking, the Lone Tree Arts Center construction is on target to open its doors to the public in 2011. Foundation work is near completion. Future parking lot and access road parking have been graded and are awaiting asphalt placement. Framing of the multi-purpose room with flexible theatre, meeting and banquet space is taking shape with masonry walls this week. This is one of many functional spaces that will serve theatre- and meeting-goers alike.
For more information about the Lone Tree Arts Center, visit www.cityoflonetree.com, click on "Leisure and Living," then "Arts and Culture," then "Lone Tree Arts Center." For more specific information the Arts Center and the programming it will offer.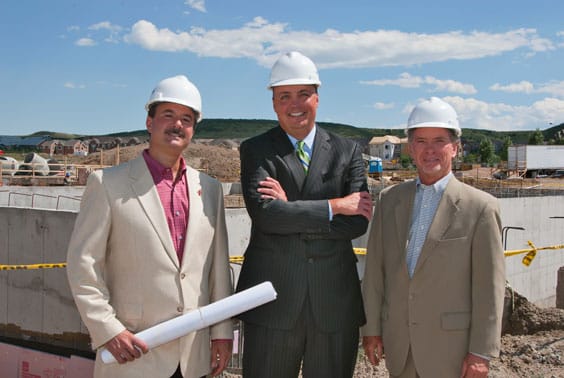 Castle Pines community residents and business leaders Richard Egitto (left), Michael Mimick (center) and Joe Cantalamessa (right) at the construction site of the new Lone Tree Arts Center, a regional facility that will bring music, art, drama and dance programs to the south metro area. Egitto, Mimick and Cantalamessa are involved in a campaign to raise funds to upgrade amenities and finishes
to the center, which will be completed fall 2011.