DCSM students pop up with fresh business ideas
May 1, 2015
/
/
Comments Off

on DCSM students pop up with fresh business ideas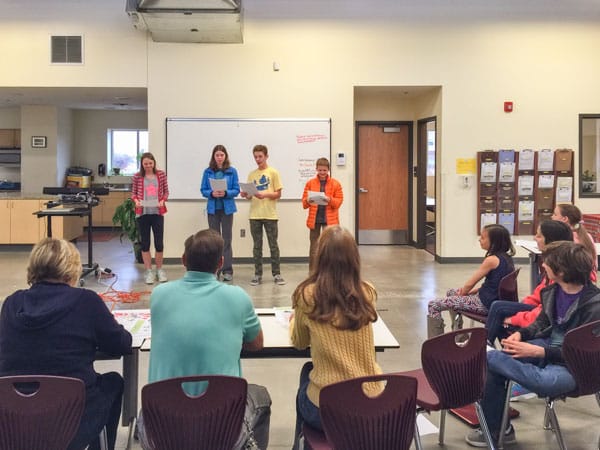 Students at the DCS Montessori school learned about product development and marketing by participating in a Junior Achievement challenge. One team from DCSM has advanced to the final round and has a chance at having their CinnaSugar Twist popcorn produced by Oogie's Gourmet Popcorn.
By Lisa Crockett; photos courtesy of DCS Montessori
Students at DCS Montessori School (DCSM) were immersed in the world of business by being challenged to develop a proposal for a new flavor for a local company, Oogie's Gourmet Popcorn.
As part of Rocky Mountain Junior Achievement's "Start it Up" program, students researched the competitive landscape, brainstormed new flavor possibilities, analyzed their market appeal, conducted market research, and determined pricing and profitability for their product. Lastly, students created marketing pieces and made a sales pitch style presentation of their flavor to guest judges.
The winning team at DCSM, which came up with a flavor called Sweet CinnaSugar Twist, now advances to the final round to face off against competitors from other area schools. The winning team will actually have their product produced by Oogie's.
"The best part of this project was getting to create a new product," said eighth grader Gabby Flocco, who helped come up with the product's tagline, "So sweet, it's twisted."