Douglas County acquires 2,038-acre Sandstone Ranch for preservation as open space
March 1, 2018
/
/
Comments Off

on Douglas County acquires 2,038-acre Sandstone Ranch for preservation as open space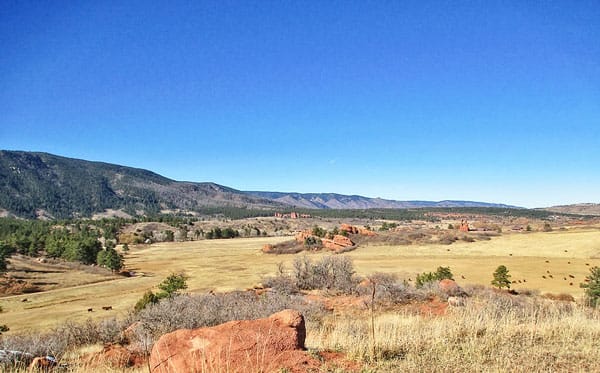 A sweeping view of Sandstone Ranch, the 2,038 acre, newly acquired, Douglas County Open Space property featuring scenic red rock formations, rocky ridges, forested hillsides and meandering creeks and ponds.
Information provided by Douglas County
One of the largest and most historic properties in Colorado, located along the foothills between Denver and Colorado Springs, is now protected by Douglas County.
"We recognize that the Sandstone Ranch acquisition is so much more than just the preservation of 2,038 acres," said Roger Partridge, on behalf of the Board of Douglas County Commissioners. "It is the preservation of the county's history, heritage and wildlife habitat, as well as other cultural and natural resources – a quality of life investment for present and future generations."
The county's $18,750,000 acquisition was achieved in part with sales and use tax revenue from the voter-approved Douglas County Open Space Fund, revenues exclusively dedicated to the protection of open space and funding county parks.
Additionally, the Sandstone Ranch acquisition benefits from the County's potential $6 million funding partnership with the Chatfield Reservoir Mitigation Company (CRMC). The CRMC was formed in 2015 to implement the Chatfield Storage Reallocation Project, which would allow for reliable water storage and enhanced water supplies for users in the South Denver Metro area. The CRMC partnership in the Sandstone Ranch acquisition will provide mitigation for the impact of the Chatfield Reservoir expansion on riparian habitat, wetlands and wildlife. The County is also pursuing Great Outdoors Colorado (GOCO) funds.
Following the development, adoption and implementation of a master plan, Sandstone Ranch will be open to the public for non-motorized use only. The master plan is expected to examine continuation of the ranching operations; development of a plan for compatible public recreation and educational opportunities; protection of identified cultural resources and maintenance of historic structures; a forest management plan in conjunction with the Colorado State Forest Service; and the comprehensive interpretation of the natural resources, range management history, and protection of the natural resources associated with the property.
Now in its 24th year, the Douglas County Open Space Program, including the Sandstone Ranch acquisition, has protected more than 63,000 acres in Douglas County through a combination of fee purchases and conservation easements, through partnerships with Great Outdoors Colorado, Colorado Division of Wildlife and Parks, land trusts, private landowners and others.
For every $1 of sales tax funds spent, the County has received $2.58 in partnership funding.