Douglas County Sheriff's Office celebrates 150 years of service
April 1, 2011
/
/
Comments Off

on Douglas County Sheriff's Office celebrates 150 years of service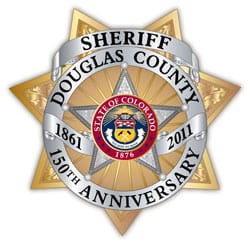 Submitted by Sgt. Ron Hanavan Public Information Officer Douglas County Sheriff's Office

In celebration of the 150th anniversary of Douglas County's founding, Sheriff David A. Weaver has commissioned a commemorative badge that deputies will be authorized to wear from April 1st to December 31st. The badge symbolizes the faith and trust bestowed upon the office of the Sheriff by the citizens he is sworn to protect. The commemorative badge is a seven-pointed star that is similar in appearance to the badge that has been worn by Douglas County deputies since the early 1980s, with a five-pointed badge – reflecting Douglas County's badges of a bygone era – in the center.
Sheriff Weaver hopes that these special badges will encourage the men and women of his office, as well as the citizens they serve, to reflect fondly upon the many brave sheriffs and deputies – including the two who have given their lives in the ultimate sacrifice of service to their community – who have served Douglas County with pride and honor since the earliest days of the pioneers.
The Douglas County Deputy Sheriff's Association was honored to fund the initial purchase of these badges and therefore no tax dollars were used. The men and women of the Sheriff's Office made a financial contribution to purchase their individual badges from the Association.