E-470 toll reductions for 2022
December 1, 2021
/
/
Comments Off

on E-470 toll reductions for 2022
By Carin R. Kirkegaard; graphic provided by E-470 Public Highway Authority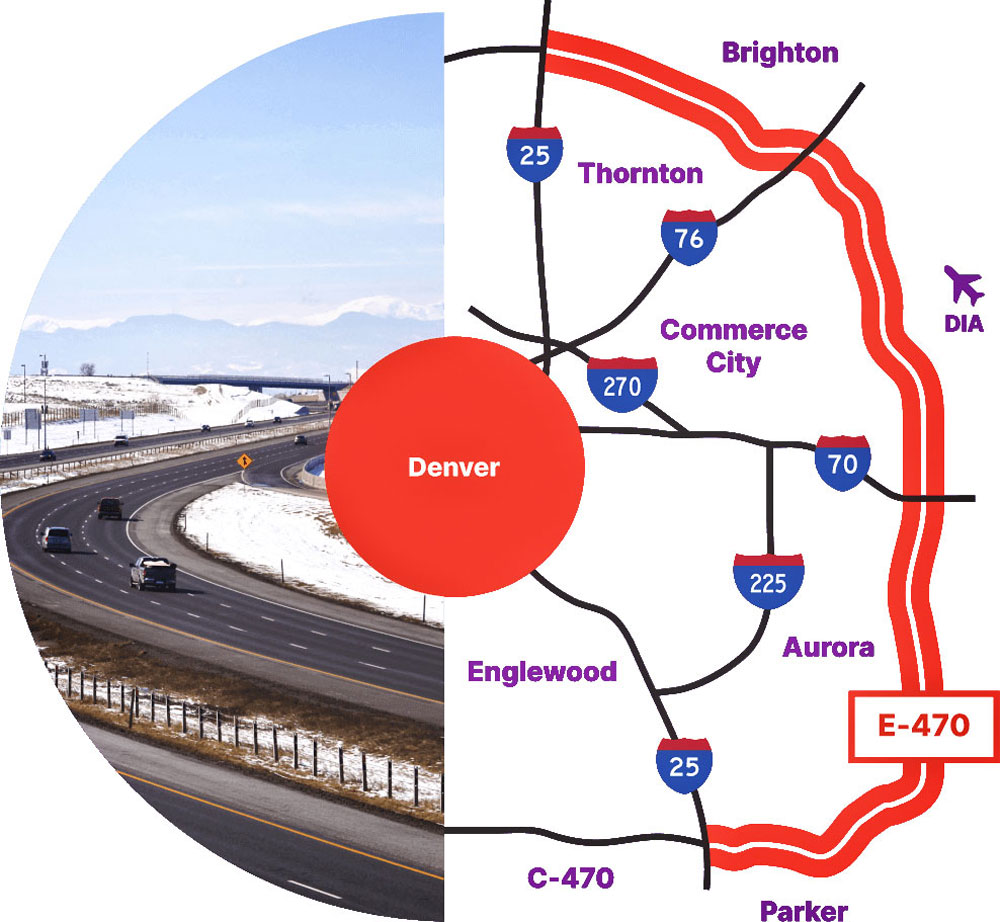 One of the many positives for those living in the Castle Pines community is location. With easy access to I-25, the main artery running north and south and just minutes from the bisecting E-470 tollway, residents can easily navigate the Denver metro area.
Drivers can look forward to a reduction in toll rates when traveling on E-470 in the coming year. In November, the E-470 Board of Directors approved a new policy that provides a reduction in toll rates while still fulfilling the Authority's debt obligations.
According to Heather Burke, the public information officer for the E-470 Public Highway Authority, "As of October 31, there were 622,726 toll transactions from the 80108 ZIP code, which is about 1% of E-470's total toll transactions. Those transactions resulted in almost $2 million in revenue."
Starting January 1, 2022, E-470 customers will see a 5 cent decrease at all E-470 mainline tolling points and a 10 cent decrease at Toll Plaza A – one of the busiest tolling points to the south in Douglas County, located between Peoria Street and Chambers Road.
A round trip ExpressToll account visit for most vehicles from anywhere in the 80108 ZIP code to DIA, for example, is $16.70 (the same trip for customers with a License Plate Toll account is $26.50). The round trip savings starting in January 2022, regardless of the account type, will be 40 cents.
E-470 has $1.4 billion in outstanding bond debt that is scheduled to be paid off in 2041. This year, 41 cents of every toll dollar has gone toward paying down this debt, while the remaining funds are applied to operations, maintenance and roadway improvement projects, with 21 cents set aside for future projects and road enhancements.
The Authority is preparing a significant capital plan estimated at more than $450 million to reinvest back into the roadway and local trails adjacent to it, with the intent to benefit the region in the coming years.
"This toll rate reduction is the product of a planning and analysis process that began in 2019 and was interrupted by the lockdowns and reduced ridership in 2020 due to the COVID-19 crisis," stated E-470 board chair and Douglas County Commissioner, George Teal. "I give all credit for this toll reduction plan to the finance team and the E-470 staff who weighed all the factors to present a plan that balances the financial health of the Authority while giving a break to the hardworking families who rely on E-470 when commuting throughout the Denver region."
E-470 is the 75 mph toll road running along the eastern perimeter of the Denver metro area. It doesn't receive local, state or federal funds for financing, construction, operations, or maintenance. The tollway is governed by the E-470 Public Highway Authority board that is comprised of eight local governments including Adams, Arapahoe and Douglas counties as well as the municipalities of Aurora, Brighton, Commerce City, Parker and Thornton. E-470 also operates ExpressToll – the all-electronic toll collection system available on E-470, Northwest Parkway and Colorado Department of Transportation express lanes. For more information, visit www.e-470.com.