Empty Nesters Connect in CPN
December 1, 2008
/
/
Comments Off

on Empty Nesters Connect in CPN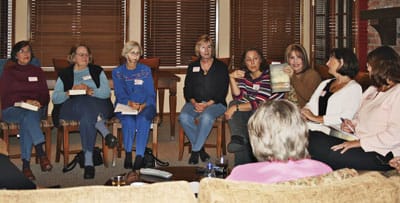 Empty Nesters gather at the HOA2 Clubhouse for Book Club.
(photo by Elean Gersack)


by Elean Gersack
A simple idea from a local retiree has turned into something much bigger than ever imagined. Castle Pines North (CPN) resident, Jan Lorenzen, and her husband once had the opportunity to spend time in a forty plus community. There, they met some really nice people while enjoying various activities. Lorenzen wondered if retirees in CPN would be interested in doing something similar. Well, the answer, quite simply, is yes.
On September 3, more than 35 people attended an interest session at the CPN Community Center. During that meeting, the group discussed possible activities and many people offered to help coordinate them. One person suggested having a cocktail hour so everyone could get better acquainted. On September 25, more than 70 people met at The Ridge and created the the name Empty Nesters. Since that time, more than 150 retirees have been in touch with Lorenzen and more contact her each day.
Connecting people with common interests is what this is all about. "People can find others that they really enjoy doing things with," said Lorenzen. Already, there are many groups meeting on a regular basis and several new groups are planned for next year:
Couples Bridge and Single Ladies Bridge meet monthly.
Bunko meets in the evening on the second Monday of the month.
Ladies Canasta Card group meets in the afternoon on the first and third Wednesday of the month.
Mah Jongg, a Chinese tile game, meets on the second and fourth Wednesday of the month.
Book Club meets in the evening on the fourth Monday of the month.
Golf group met twice in the fall and will start-up again in the spring.
Gordon Dickinson, a Sommelier, will share his wine knowledge during many upcoming events.
The Hiking group and Rockies Baseball group will start meeting next spring.
A Restaurant Dinner club and Charity Volunteer group will begin after the first of the year.
Potlucks or Cocktail Hours will be planned for everyone in Empty Nesters, on occasion.
Lorenzen knows that at this point in life, people have a little more free time and want to play. "We can share things with people at the same stage in life. I've met a number of lovely ladies who have become good friends. I hope others will find the same," said Lorenzen.
If you would like more information about becoming an Empty Nester or if you would like location and dates for any of the activities mentioned above, please email Jan Lorenzen at Contact by email .