Empty Nesters hike Meyer's Ranch Park
August 1, 2010
/
/
Comments Off

on Empty Nesters hike Meyer's Ranch Park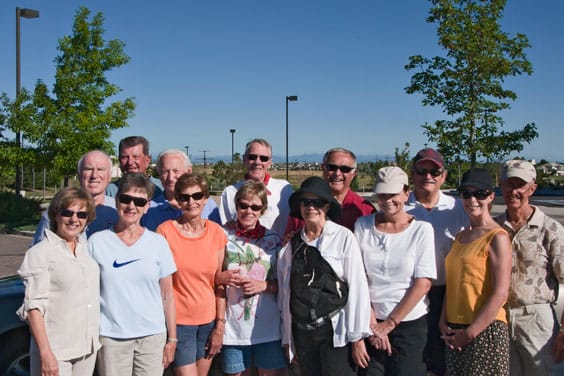 Empty Nesters meet at the King Soopers parking lot in Castle Pines North before heading out to Meyers Ranch Park in Jefferson County for the group's first hike of the season.
By Carin Kirkegaard with information submitted by Jan Lorenzen and photo by Tim Gamble
The Castle Pines North (CPN) Empty Nesters braved the record-breaking temperatures set in July and headed out on their first hike to Meyers Ranch Park located in the Jefferson County open space.
Fourteen hikers equipped with binoculars, walking sticks and comfortable shoes joined the hike up Owl's Perch, Lodgepole Loop, and Sunny Aspen on what would be the Empty Nesters fifth hike since the group formed in July 2009. Several hikers followed the trail to the end by way of Old Ski Run Trail. Others waited at the stone picnic shelter and enjoyed a discussion that touched on books, baseball and a number of other topics.
"It was a very warm day but after crossing a large, grassy meadow the heavily forested slopes provided plenty of shade as temperatures reached the 90s," commented Jan Lorenzen, Empty Nester founder.
A series of hikes throughout the summer provide CPN retirees of all levels a chance to get out into Colorado's wilderness. The hikes last from two to three hours, and quite often end with lunch at a local café. Carpooling from CPN gives retirees a chance to get better acquainted.
Three additional hikes are planned for this summer, all within a 30 to 40 minute drive of CPN. All CPN retirees are welcome to join. Hikers are headed to Deer Creek Canyon on August 3rd, to Bluffs Regional Park on September 3, and to Platte River Trail on October 4.
In addition to hiking, the CPN Empty Nesters have other activities including Mah Jongg, Bunco, Book Club, Canasta, Bridge, Cocktail Hours and special events. Please contact Jan by janloren@yahoo.com if you would like more information about any of these activities.