Enjoy music, food, wine and beautiful art for a worthy cause
June 1, 2013
/
/
Comments Off

on Enjoy music, food, wine and beautiful art for a worthy cause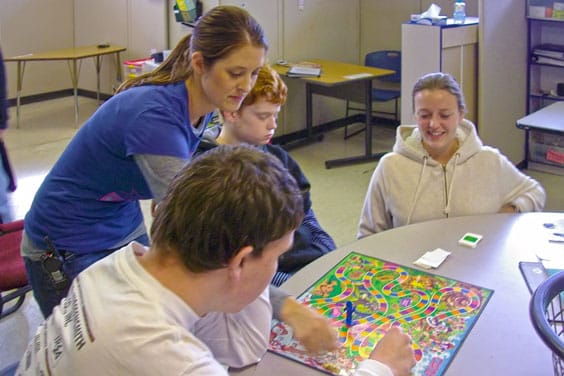 Firefly Autism in Denver, pairs their students with educators, occupational therapists and physical therapists as needed. Their wonderful work is being celebrated at the Art Show in the Village on June 14th—please come out to show your support!
By Amy Shanahan; photo and logo courtesy of Firefly Autism
The upcoming Art Show in the Village will serve in part as a fundraiser for a local non-profit organization called Firefly Autism. Autism is the fastest growing serious developmental disability today in the United States, and it affects one in eighty-eight children. Although there is no medical cure for autism, studies and research have proven that early intervention leads to groundbreaking results.
Firefly Autism operates as a non-profit organization and relies on fundraising dollars to service the needs of its children. The Village at Castle Pines is thrilled to host the second annual Art Show in the Village to benefit Firefly Autism during the weekend of June 14-16. The art show features some of the country's best artists who work in a wide range of mediums, including bronze, sculpture, jewelry, painting, and photography. Saturday and Sunday are open to the general public, but Friday evening June 14 will serve as a fundraiser for Firefly Autism. For a cost of $75 per person, attendees will enjoy first access to the artists and their work, as well as spectacular wines, craft beers, appetizers from fabulous local caterers, and live music.
Firefly Autism, located in Denver, is leading the way in the tremendous effort to service the needs of children with autism. The organization's slogan "Inspiring bright futures by turning can't to can" sums up the goal for each child who steps foot into its facility. Firefly Autism has been in Denver serving the needs of children from all over Colorado since 2003.
In that time, it has served more than 500 children through one-on-one teaching and home-based family-focused therapy. Its holistic approach means that occupational therapists, physical therapists, and educators work together in one location to support and transform the lives of the children, as well as their family members and friends. The result is a dramatic increase in the learning rates of the children.
Executive Director Jason Romero, himself the father of an autistic son, is so impressed by the results and continual progress of the children at Firefly Autism. "Early intervention is the name of the game," Romero remarked. "At Firefly, we witness and celebrate miracles every day." Many children in the Early Childhood Program are able to successfully enter public schools by the time they reach school age.
Firefly Autism's VP of Development Jesse Ogas remarked, "The developmentally disabled are some of the most under-served in our society. Because of Firefly, families have hope." To purchase tickets for this wonderful event, visit www.fireflyautism.org.