Independence Day Fireworks in Douglas County
July 1, 2020
/
/
Comments Off

on Independence Day Fireworks in Douglas County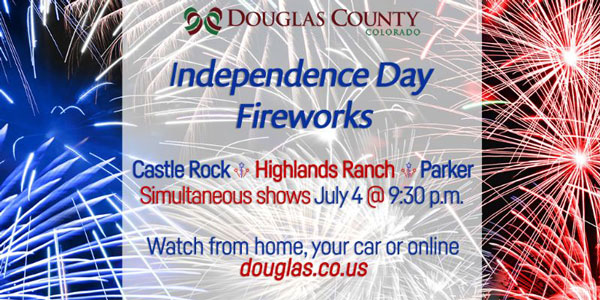 On July 4, residents in Douglas County will have a choice of three professional fireworks shows, in Castle Rock, Highlands Ranch and Parker – all starting at approximately 9:30 p.m.
All three fireworks displays were designed, and locations determined, while working closely with law enforcement and fire protection agencies. All displays will be broadcast live on the County's website and on the County's Facebook page, as well as on the Town of Castle Rock Facebook page.
All property and streets surrounding the fireworks shows will be closed to discourage on-site viewing. There will be no organized gatherings or events. Officials ask that residents watch from home, online or from your vehicle at a recommended viewing location in the vicinity. Suggested viewing locations are posted at douglas.co.us.
The show in Castle Rock will last about 15 minutes. "Castle Rock is proud to carry on our longstanding tradition of providing a high-impact fireworks display for our community, from the top of Santa Fe Quarry west of I-25 above Red Hawk Ridge Golf Course," said Castle Rock Mayor Jason Gray. Visit CRgov.com/fireworks for the most current information. In Highlands Ranch, the 30-minute display will launch from Mountain Vista High School. At another location near The Pinery in Parker, a separate 30-minute display will launch simultaneously.
"While our world is certainly very different than it was the first year Independence Day was celebrated with fireworks on July 4, 1777, the joy and celebration that comes from the feeling of freedom has not changed," said County Commissioner and Board Chair Roger Partridge.
All shows are weather and fire-restriction dependent. As a reminder, as of press time, Stage 1 fire restrictions were in place for all of Douglas County, and all non-professional fireworks were prohibited.