March 1, 2019
/
/
Comments Off

on Game Night at The Ridge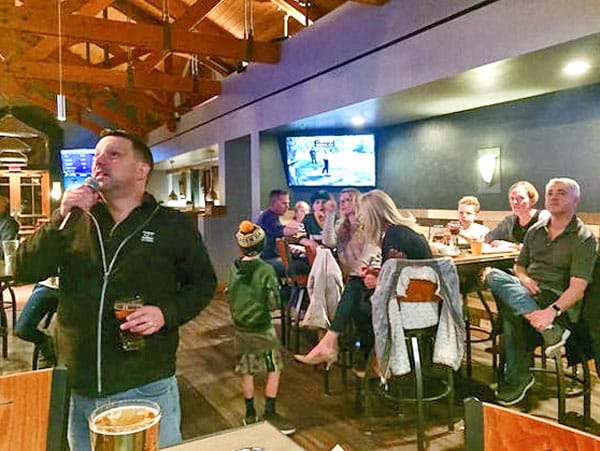 With a flair for creating custom puzzles and games for special occasions, resident Andy Walls hosts Game Night at The Ridge on Wednesday evenings from 6:30 p.m. to 8:30 p.m.
By Steve Whitlock; photo courtesy of Andy Walls
There's a new game in town, and you are invited. Hosted at The Ridge at Castle Pines North, attend on Wednesday evenings between 6:30 p.m. and 8:00 p.m. It's free, it's fun for all ages, and prizes are awarded to the top three teams.
This weekly event is presented by Andy Walls from Yellow House Games, a custom game maker in Douglas County. Andy shared how it started, "My wife, Shari, and I were enjoying dinner at The Ridge about two months ago, and we were playing an impromptu round of trivia with some of the people at the bar, and BAM – 'You need to host a game night for The Ridge.' All who were playing agreed, and when we held a soft opening three weeks ago, we knew it was a hit."
It's been a popular event. "The Ridge went from several tables a night on Wednesday nights – to a packed house in one week. We have had several repeat players and teams. Again, everyone really seems to enjoy it."
The content and format for the game is customized each night with a typical session having three rounds of family-friendly games. He said, "Think, 'name that TV show,' where I play a TV theme song and you name the show, 'interesting places,' where I show you a photo of an unusual/interesting place, and you answer a multiple choice question regarding the photo, and a speed round where I give you a category and you have to name as many of the things as possible before a song ends. Everyone has a great time, with the moms dancing in their seats to nostalgic movie theme songs ('Top Gun's' Highway to the Danger Zone, anyone?). It's a hoot!"
As the owner and founder of Yellow House Games, Andy knows how to engage people. In fact he makes his own board games, card games, puzzles, scavenger hunts, etc. – all customized for individuals and groups.
When asked how to join game night at The Ridge, Andy responded, "It literally could not be easier to join in the fun! Just walk in The Ridge, tell us you want to play, and you're in the fun. And it's important to remember that you can join in at any point of the game. All ages and all walks of Castle Pines life show up for Game Night, so I try to have a little something for everyone to enjoy. Running a little late? Not to worry. The more the merrier!"
To discover more, call 303-335-5711 or visit yellowhousegames.com.