Getting out and about can make you feel young at heart
May 1, 2016
/
/
Comments Off

on Getting out and about can make you feel young at heart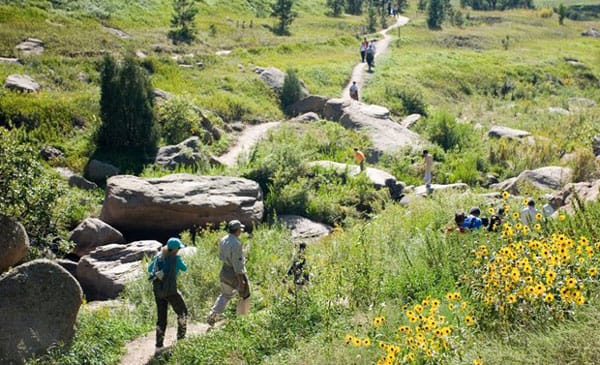 By Patte Smith
As the weather warms up and summer approaches, it is time to experience the great outdoors. Right in our own backyard, Castle Rock Senior Activity Center Hiking Club organizer Phyliss Tumey has planned five great hikes for the spring and summer season. Get out, get some exercise, and enjoy the fresh air and beautiful Colorado outdoors to renew your spirit.
The center's hikes this season include:
– Thursday, May 19, Gateway Mesa/Mitchell Gulch
– Thursday, June 16, Dawson Butte
– Thursday, July 14, Castlewood Canyon State Park
– Thursday, August 18, Palmer Lake Reservoir
– Thursday, September 15, Red Rocks Canyon Park and lunch at Rosie's Diner
Dig out those walking shoes and sign up for one or all of the hikes. Transportation is provided and the group leaves at 8:30 a.m. from the Castle Rock Senior Activity Center, 2323 Woodlands Boulevard in Castle Rock. This is a great way to meet people with similar interests and make new friends. Although many Castle Pines area residents are members of the senior activity center, you do not need to be a member to register for hikes and you can pay a non-member fee. Yearly membership to the senior activity center is $36. Visit www.castlerockseniorcenter.org to register online or call 303-688-9498 for more information.
Additionally, sport leagues are a big part of the center and are offered throughout the year. Softball season started in April, and players are still welcome to join the teams. Tennis for men, women, and doubles is offered through the program and is played at Centennial Park or Butterfield Park. A 9-hole and an 18-hole golf league plays mornings at Red Hawk Ridge, and outdoor pickleball is at Founder's Park. Clinics for anyone interested in learning pickleball will be held on Tuesday May 3 and May 10 from 9:00 a.m. to 11:30 a.m.